Photo Gallery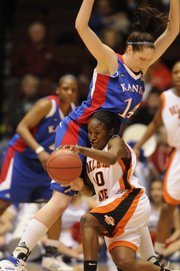 KU women vs. Oklahoma State
Kansas City, Mo. — Forget, heck. For Oklahoma State's women's basketball team, revenge was sweet.
With visions of 2007 still dancing in their heads, the Cowgirls hully-gullied Kansas, 82-62, in a Big 12 Conference Tournament quarterfinal Wednesday night at Municipal Auditorium.
"KU grabbed our attention by beating us last year," OSU coach Kurt Budke said. "Our sole motivation was to make sure that didn't happen again."
In last year's Big 12 tourney in Dallas, Kansas was the No. 11 seed and knocked off the No. 6-seeded Cowgirls, 71-62, in a first-rounder in Dallas.
Coincidentally, Kansas was the No. 11 seed this year and had spilled No. 6 Nebraska, 73-67, in Tuesday night's first round. And, with so many high seeds being toppled, KU had hopes of pulling a few more stunners this week.
"We talked about our opportunity to be a spoiler," Henrickson said, "but not to lose sight of the revenge factor."
It wasn't so much losing sight, though, as losing contact. Using their superior speed and quickness, the Cowgirls staged a clinic on how to run the transition game, using a 16-2 run midway through the first half to take control.
OSU spurted to a 38-19 lead, then settled for a 43-31 edge at the break. Kansas would have one last gasp, however. With Krysten Boogaard scoring the Jayhawks' first 10 points of the second half, KU sliced the lead to eight (49-41), but then the Cowgirls went on another run, and the Jayhawks wilted.
"We couldn't seem to find a way," KU guard LaChelda Jacobs said, "to stop their layups."
Added Henrickson: "We got it to eight, and then we didn't have a sustained effort."
Until Wednesday night, the most points Kansas had surrendered this season was 74 in a road game at California.
At the same time, OSU certainly offered no foreshadowing of its offensive capabilities when the Cowgirls visited Lawrence for the conference opener in early January.
OSU scored only 59 points in that meeting, winning by five.
"The difference between this game and the one in Lawrence," Henrickson said, "is they were more of a halfcourt team. They became more of a transition team later."
With OSU's mercurial Andrea Riley operating on the point, the Jayhawks were hard-pressed to keep up with her. Then with the 5-foot-5 sophomore in the point of the Cowgirls' zone, the Jayhawks had difficulty penetrating or finding an open shot.
Riley, who scored 25 in the first meeting in January, had 23 this time. Meanwhile, OSU's other four starters also scored in double figures. The Cowgirls had only eight points off the bench, all from Kristin Hernandez.
KU's offense was dominated by three players. Danielle McCray had 18, Boogaard 17 and LaChelda Jacobs 15. Everybody else combined for only 12 points.
Moreover, McCray, Boogaard and Jacobs took 40 of the Jayhawks' 60 shots.
KU was guilty of fewer turnovers and fewer fouls than in Tuesday's surprising victory over Nebraska, but the Cowgirls shot 50 percent while Nebraska shot just 38 percent.
Kansas (16-14) has dropped six of its last seven games, yet the Jayhawks are virtually certain to receive a WNIT bid.
"Most people may think I'm crazy, but we're a good team," Henrickson said. "We're a good team that plays in a great league."
The WNIT will announce its bracket late Monday night, after the NCAA reveals its field. Quite likely, the Jayhawks will be playing host to a first-round WNIT game Wednesday night.
Copyright 2018 The Lawrence Journal-World. All rights reserved. This material may not be published, broadcast, rewritten or redistributed. We strive to uphold our values for every story published.