Photo Gallery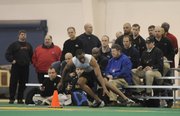 KU football Pro Day & press conference
Clint Bowen is no stranger to Lawrence, a place he has called home since he was a child.
Still, when the 35-year old was named defensive coordinator of Kansas University's football team in January, he found the community to be a little bigger than he thought.
"I've gotten a lot of congratulations from people I didn't even know," Bowen said Tuesday. "It's nice to know that people are paying attention and know what's going on. I appreciate all the support."
Bowen will be taking the reins of KU's strong defense, and his first on-field work will be today when spring practice begins.
KU will work out three times this week and 15 times over the next month before the April 12 spring game.
A year ago, KU found a new offensive coordinator in Ed Warinner, and the spring was spent implementing a much different offensive attack that ended up working wonders for KU's 12-1 team.
But the defensive transition from former coordinator Bill Young to Bowen won't be nearly as dramatic.
"A few things we will tweak and work with," Bowen said. "But the base package and the base defense will remain the same. Our kids know it. They understand it.
"Obviously, they've played well with that defense, so it'll remain the same."
KU head coach Mark Mangino called Bowen's promotion "an easy call" after Bowen spent the last two seasons as co-defensive coordinator under Young.
That's not to say things won't change, particularly on Saturdays. Last season, Bowen usually had the most say in third-down passing situations, while Young was in charge of first- and second-down playcalling.
"During the week, you always put your plan together and what you feel like you're going to be able to do that week," Bowen said. "But on game day, it was Bill calling it and me making suggestions."
Young is now defensive coordinator at Miami, making Bowen the man at Kansas. The two still talk often and have a similar creed to managing defenses: Stay sound and "don't try to re-invent the game of football."
KU's players, meanwhile, haven't worked a lot before today with Bowen in charge. But they don't anticipate a bumpy road.
"Coach Bowen has been with the program, with coach Young, working with him on our scheming and packages that we put in week in and week out for our preparations," defensive end John Larson said. "So, really not too much is going to change in terms of the schematics of our defense."
Sounds about right. Bowen has been a constant on KU's coaching staff since he was a graduate assistant in 1998.
And considering KU ranked 12th nationally in total defense, won the Orange Bowl and returns nine starters on that side of the ball - really, what's to change at this point?
Besides, the players already are on board.
"Coach Bowen is like us. He don't want to lose to nobody," cornerback Chris Harris said. "If people hate to lose as much as I do, I'm with them."
Copyright 2018 The Lawrence Journal-World. All rights reserved. This material may not be published, broadcast, rewritten or redistributed. We strive to uphold our values for every story published.