Photo Gallery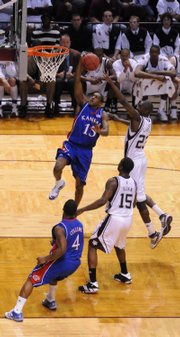 KU vs. Texas A&M
Final, KU wins 72-55
Proving on the road that the February swoon is out of its system, Kansas University went on the road and clinched at least a share of its fourth straight Big 12 regular season title Saturday at Texas A&M;, 72-55.
KU finishes at 28-3 overall in the regular season, and 13-3 in conference play. With that mark, KU can be no lower than the No. 2 seed at next week's Big 12 Tournament in Kansas City's Sprint Center. If Texas defeats Oklahoma State in Austin Sunday, KU will take the No. 2 seed, playing at 6:00 p.m. in the quarterfinals Friday. If OSU should win, KU will draw the top seed and play at 11:30 a.m. Friday.
Darrell Arthur got things started Saturday for the Jayhawks, scoring 12 of his 16 points in the first half on 6-of-7 shooting. He had a key offensive rebound during a big six-point swing late in the first half that put KU up by double-digits for the first time.
In the second half, Mario Chalmers and Sherron Collins helped blow things open for the Jayhawks, mostly in the transition game. Chalmers also finished with 16 points, hitting KU's only two three-pointers on the afternoon. Collins scored 13 points, and Brandon Rush's late three-point play, including a skying baseline jam, gave him 10. Russell Robinson was the fifth Jayhawk in double figures with 11 points.
For more on this Saturday's game, log back onto KUSports.com and read Sunday's Journal-World.
3:51, second half, KU leads 65-50
Brandon Rush spun home both free throws after the timeout, tying KU's biggest lead of the game at 13 points, 57-44.
Donald Sloan got to the line after that for a one-and-one, hitting both of his attempts and bringing the Reed Arena crowd to life yet again. Russell Robinson tried to quiet the house with a three, but his try drew air and was long. Sloan tried one of his own but was off from straight on.
Darnell Jackson was then called for his fourth foul of the game and went back to the bench, but A&M; couldn't respond. Chalmers wound up with a steal, then took back a feed from Sherron Collins in transition and hit a layup while getting fouled. His three-point play put KU ahead 60-46.
Dominique Kirk dropped in a three in response, but Darrell Arthur slammed it home on the other end for his first points of the second half after working around Bryan Davis on the baseline.
Sasha Kaun then made one of two free throws out of a 30-second timeout, which came after Sloan and Davis couldn't connect on an alley-oop. That, again, gave KU a 14-point lead.
Darrell Arthur picked up his fourth foul on the next A&M; possession, which resulted in Joseph Jones hitting one of two free throw tries. Brandon Rush then sunk a pair after picking up contact from DeAndre Jordan, sending KU into the game's final TV timeout up 65-50.
7:49, second half, KU leads 55-44
Josh Carter missed a corner three look out of the timeout, as did Sherron Collins and Mario Chlamers both. Russell Robinson wound up with the first points out of the break off a feed from Collins. Collins then drew the sixth team foul on A&M; in the open floor off an A&M; turnover.
Robinson scored again after traded empty possessions, doing so in transition to push KU's lead back into double digits at 55-44 with 8:32 to play. That came on the heels of another Carter three miss from the spot in the corner.
Darrell Arthur unloaded a clean swat on Dominique Kirk out of a Texas A&M; full timeout, and Kirk tried to do the same on Brandon Rush on the defensive end but was called for a foul with 7:49 to play.
11:29, second half, KU leads 51-44
Josh Carter buried a corner three-pointer for A&M; out of the timeout, bringing Reed Arena to its feet and closing the KU lead to six points. Sherron Collins went to the line on the other end and swished a pair of free throws after drawing contact inside on DeAndre Jordan.
Dominique Kirk answered back with a mid-range jumper, after getting his own rebound from a three-point miss. Sherron Collins again pushed back for KU with a mid-ranger of his own, giving him 12 points on the afternoon.
Kirk went to the line then for A&M; after a blocking foul on KU - the seventh team foul of the half - and hit two. KU continued to answer, this time with Mario Chalmers notching his second three-pointer of the game up top, leaving his hand hanging as he backed down the court. Collins then collected a defensive rebound off a Bryan Davis miss, but a Russell Robinson three was off.
Kirk went back to the line for A&M; after another blocking call. He again sunk a pair, making it 51-44 with KU in front. Collins then fed Cole Aldrich and a foul as the freshman went up for a dunk put him at the line. It was also the third foul on A&M; sophomore big Bryan Davis.
Aldrich missed both free throws, and DeAndre Jordan went high for the rebound. A&M; couldn't answer against a fading shot clock, leading the game to its second full break of the final half.
15:10, second half, KU leads 44-35
Bryan Davis put a nifty move on Darrell Arthur and scored on a baby hook out of the half for A&M;, but Arthur answered back with a turnaround jumper over a soaring DeAndre Jordan. Russell Robinson then compounded the A&M; woes by stealing the inbounds pass and laying it in while drawing contact. His free throw put KU up 41-28.
KU kept the full court pressure on and it resulted in a foul called against Darrell Arthur, but A&M; couldn't score on two straight opportunities in the paint.
Dominique Kirk put in two in transition after collecting a loose ball, which was the result of a Mario Chalmers baseline miss. Brandon Rush made one of two free throws moments later to put the KU lead back at 12 points.
Donald Sloan worked it down to 10 points with two inside, and Brandon Rush was called for a foul soon after on the defesnive end away from the ball. Sherron Collins erased it, though, stealing a ball at midcourt and slicing in for a transition layup.
Donald Sloan answered again for the Aggies, this time cashing a three, but Josh Carter couldn't close it down further, missing a layup short off a Dominique Kirk steal. Brandon Rush was then called for a charge - his third foul - at the 15:10 mark, sending the game to its first full break with KU ahead by nine.
Halftime, KU leads 36-26
Bryan Davis hit one of two free throws out of the timeout after drawing contact for Texas A&M;, and Brandon Rush couldn't respond, as he tried a mid-range jumper fromt eh top of the key. But after an A&M; turnover, KU returned the favor and Beau Muhlbach earned two points on the other end after a goaltending call against Mario Chalmers, making it 28-23 with KU still out in front.
Out of the timeout, Cole Aldrich hauled down a big offensive rebound to follow a Sherron Collins three miss, and was fouled soon after, getting him to the line. He hit the first, and Darrell Arthur grabbed the board on the missed second attempt, turning it into KU's first three of the game from Mario Chalmers. A&M; quickly turned it back over to Sherron Collins, who was fouled on his way up. He hit two free throws, giving KU six points on essentially one trip up the floor.
DeAndre Jordan got himself to the line on A&M;'s next possession and missed both tries, with Arthur gathering another rebound. Cole Aldrich tried to score on the baseline but couldn't put it on target. Donald Sloan hit a three for A&M; to make it an eight-point game, iwth KU holding for the final shot of the half. Mario Chlamers laid one in off a feed from Sherron Collins, putting KU ahead 36-26 at the break. Darrell Arthur led all scorers with 12 for KU.
3:33, first half, KU leads 28-20
Sasha Kaun missed one off the long iron out of the timeout, and he went to the bench thereafter for Darrell Arthur to re-enter. Arthur scored his sixth bucket of the game after Joseph Jones hit a pair of free throws, giving KU again a six-point lead at 24-18.
Mario Chalmers extended it to eight after picking a pall from the grip of Joseph Jones, feeding it to Sherron Collins in transition and taking it back for a one-handed slam.
Derrick Roland then hit his first bucket of the game on the baseline, but KU kept the momentum with a two-handed Cole Aldrich slam, making it 28-20.
7:13, first half, KU leads 22-16
Josh Carter's first points of the game came on a pair of free throws out of the timeout. Sherron Collins, though, answered right back with a slashing finger roll off the left wing. Josh Carter tried to respond with a three from the left corner, but it fell off the rim and Darrell Arthur snatched the board.
KU turned it over on another entry pass, and Darnell Jackson was called for his second personal foul on a Dominique Kirk drive. Kirk hit one of two free throws, and Darrell Arthur's third bucket of the game - a short turnaournd hook - put KU back ahead, 16-15. Sherron Collins extended the lead with a layup in transition off an A&M; turnover.
DeAndre Jordan got to the free throw line for the first time moments later, hitting one of two to cut KU's lead to two points, but Darrell Arthur again went to work, this time slicing Jordan and Chinemelu Elonu for two off the block. He then put himself into double digits with a jumper from just inside the three-point arc that went up high off the back rim and dropped right through, silencing Reed arena and pulling the game into a quick timeout with KU ahead 22-16.
A foul on Dominique Kirk after that break sent the game into a full timeout.
10:26, first half, game tied 12-12
Against a dwindling shot clock, Brandon Rush knocked a ball loose from Bryan Davis out of the full timeout, but Sasha Kaun's turnaround short hook on the other end was off the iron. Rush gave KU another shot moments later, grabbing a defensive board off a Dominuqe Kirk three miss. The Jayhawks turned it over on the baseline, but this time Donald Sloan missed a three for A&M.; Rush then took it upon himself, cashing a mid-range jumper to put KU up by two.
KU turned it over again after an illegal screen gave the Jayhawks a chance to extend their lead. Derrick Roland missed a three, but Beau Muhlback kept it alive on the offensive glass. An offensive foul call on Joseph Jones ended the possession.
The two teams traded empty possessions, with A&M;'s ending with a Mario Chalmers steal, but a Chalmers post entry pass then went out of bounds, giving A&M; another chance before the under-12-minute TV timeout. Joseph Jones tied it up off a nifty feed from Dominique Kirk, but Mario Chlamers quickly threw KU back on top with a runner. Jones then took another inside dish and flushed it home two-handed, tying the game 12-12.
After a Sherron Collins mid-range miss off a loose ball scramble, Josh Carter was fouled on a mid-range two by Chalmers, sending the game to a full break.
15:38, first half, game tied 8-8
Darrell Arthur scored right off the opening tip for KU, and while he was walling up DeAndre Jordan on the other end, Russell Robinson reached in for a poke, giving the ball back to KU. Arthur then fed Darnell Jackson inside, but his short look missed, sending the ball back with Texas A&M.;
Dominique Kirk, playing in his final home game at A&M;, stroked a three with eight seconds left on the shot clock for the Aggies, and KU turned it back over underneath, but Joseph Jones on the other end couldn't convert. Arthur put KU back ahead 4-3 with a short turnaround jumper.
Jordan put A&M; ahead by backing Arthur down inside, and he then swatted Robinson on the other end, but the KU senior corralled the loose ball and scored underneath. Darnell Jackson then gave KU a three-point lead with a spin against Jordan and a layup inside following a call against Joseph Jones.
Donald Sloan tied it up for Texas A&M; with a three from the left wing, and when Arthur tried to put KU back ahead, he was long off the glass. DeAndre Jordan was fouled after gathering the board, sending the game to a full break.
Pregame
COLLEGE STATION, Texas - While Sunday's game between Texas and Oklahoma State in Austin helps finalize the seedings for next week's Big 12 Tournament in Kansas City, Kansas University does control one thing - its own resume for a potential league crown and No. 1 seed in the NCAA Tournament.
With a win today at Texas A&M;, the Jayhawks (27-3 overall, 12-3 Big 12) would clinch at least a share of the league title for the fourth straight year. A win today combined with a Texas loss is the only scenario which would give KU the outright crown.
But winning against the Aggies (22-8, 8-7), especially in Reed Arena, is no easy feat. The Jayhawks lead the all-time series in College Station 5-0, with four of those wins coming in the Aggies' current home. Add in that A&M; is coming off a must-have win over Baylor on the road, that it's the first game former KU guard Mark Turgeon will coach against his alma mater and that it's A&M;'s Senior Day, and KU is up against quite a bit.
The Jayhawks are in a good state, however, to be going up against all that, considering that their most impressive three-game stretch so far in league play was the one they just completed. Following a road win at Iowa State last Wednesday, KU dusted both Kansas State and Texas Tech in a 48-hour stretch, both games played in highly-emotional atmospheres in Allen Fieldhouse.
A&M; will rely on stingy defense in trying to keep today's game close. KU and Texas A&M; rank No. 1 and 2, respectively, in field goal percentage and field goal percentage defense in the Big 12.
The names to remember today for Texas A&M; will be those of Joseph Jones and DeAndre Jordan. Jones, a senior, has traditionally played well against KU, even though his numbers have decreased gradually since his breakout sophomore season. Jordan, a 7-foot freshman, is one of the nation's most highly-regarded freshmen and can change a game with his athleticism and shot-blocking ability.
Tip-off is set for 3 p.m. with the game airing on CBS (Sunflower channels 5 and 13).
Copyright 2018 The Lawrence Journal-World. All rights reserved. This material may not be published, broadcast, rewritten or redistributed. We strive to uphold our values for every story published.