Photo Gallery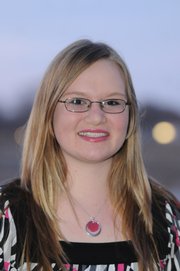 Youth of the Year
Many of 14-year-old Megan Tunget's peers don't think it's cool to go to Boys and Girls Club after school as a teen.
But she does, perhaps because the club is a kind of home for her. The Boys and Girls staff, including Roger Ross, program director at her club, 1520 Haskell Ave., and all the younger children who look up to her are like her family, she said.
Tunget, an eighth-grader at South Junior High, was one of three nominated for the club's Youth of the Year award. Tunget, who has been going to the club for almost three years, received the honor Thursday night at Abe & Jake's Landing, 8 E. Sixth St. Trei Dudley, eighth-grader at Central Junior High, and Kathryn Watson-Jackson, a senior at Free State High School and team leader at the club, were the two other candidates. Each was nominated by the club director. They were chosen based on an application process that included writing essays, gathering reference letters and being interviewed.
Each nominee shared a personal story, a speech titled "What Boys and Girls Club Means to Me." All of them described how the club provided an escape from the hardships of home life, school life and other challenges that youths face in the community and across the nation.
"Sometimes when I'm at home, I feel like I have to be the mom," Tunget said. "When I'm at Boys and Girls Club, I feel like I can be a kid. I can be me."
After giving their speeches to more than 300 people, five judges chose the winner. Boys and Girls Club of Lawrence serves 3,100 children each year. The club provides activities, mentors and a place to go after school. Ross said the club also provides a Smart Girls/Womanhood and Smart Boys/Manhood program for youth to speak out about issues without judgment.
Tunget will compete in the state competition in Topeka next week. She has the chance to continue to northeast regionals and then nationals. Each level offers scholarship money for college.
"I'm kind of surprised because I thought it could have been any of us," she said. "I could feel my heart beating really hard, but I was more excited than nervous."
Other features of the night included a speech by Kansas University football coach Mark Mangino. He encouraged youths to make a game plan to reach their dreams.
Copyright 2018 The Lawrence Journal-World. All rights reserved. This material may not be published, broadcast, rewritten or redistributed. We strive to uphold our values for every story published.