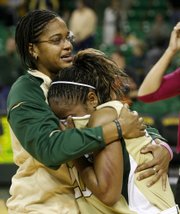 Waco, Texas — Andrea Riley scored 27 points, and Shaunte Smith added 17 as No. 20 Oklahoma State beat No. 8 Baylor, 72-68, Thursday night to dash the Bears' chance of sharing the Big 12 regular-season championship.
Maria Cordero added nine points for the Cowgirls (23-6, 11-5), seven of them coming in the final four minutes.
Angela Tisdale had 18 points for Baylor (24-5, 12-4), which could have tied Kansas State for the regular-season conference title. Jessica Morrow and Danielle Wilson had 11 each.
Oklahoma State took a 42-29 lead with 4:44 left in the first half on consecutive baskets - a jumper and a three-pointer - by Riley, who scored 19 in the half. But the Bears went into halftime on a 7-2 spurt to close within 43-36.
After two quick baskets to open the second half put the Cowgirls up by 11, Baylor used a 10-2 run to cut the lead to 53-52 with 13:04 remaining.
No. 17 Texas A&M; 73, No. 11 Oklahoma 59
College Station, Texas - Danielle Gant had 21 points and 12 rebounds to lead Texas A&M; over Oklahoma, the Aggies' sixth straight victory and their third in a row over a Top-25 team.
Texas A&M; (23-7, 11-5 Big 12) finished the regular season with victories in 10 of its last 11 games after starting conference play 1-4.
The Aggies led this one from start to finish and maintained a double-digit lead through most of the game.
Copyright 2018 The Associated Press. All rights reserved. This material may not be published, broadcast, rewritten or redistributed. We strive to uphold our values for every story published.