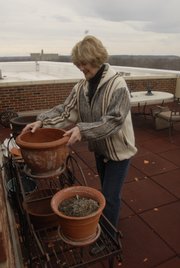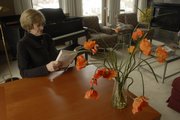 As our city has grown, the ripple effect of housing has certainly transformed the outskirts of Lawrence from soy fields to bustling neighborhoods.
But as we grow out, we are also beginning to grow up.
A resurgence of interest in urban living is alive and well in Lawrence, and why not? To have such conveniences at your fingertips and merely steps away from your front door are the likes of foamy lattes, exquisite epicurean delights, visits to the dentist or acupuncturist, or possibly just a simple plush chair and a good book at a local literary vendor.
It is fabulous to see a curiosity in leading a life that marches with the drum of the city. But as a gardener, can you have both - that exciting, palpable urban living experience and soiled hands? Not easily. It is difficult to still keep a green thumb when you are saddled with limited space, restricted light and the impossible task of being selective as to what you can grow.
Carol Roberts is a Master Gardener. Not long ago, she lived on 10 acres in southeast Lawrence. She had a 100-by-40-foot area just for cut flowers, an enormous grass garden, plentiful perennials and shrubs, and a lawn that took hours to mow. Now, she is nestled at the Hobbs-Taylor Lofts downtown, and her gardening days are quite different.
"I wrecked my knees and my back and hands. I got new knees but have consequently done no gardening since," Roberts says. "Flexibility is essential for a happy life. I am now turning to silk flowers, something I would have told you a year ago that I would never do - yuck! Somehow, I now find them really pretty."
What a transformation, from 10 acres to silk flowers. But Roberts is helping to plan a communal rooftop garden in her building and is anxiously anticipating Spring's arrival when she can once again get her fingernails caked with soil.
"I plan to get some red geraniums for the roof garden and some herbs," she says. "I miss having my own herbs. Other neighbors may plant other things; it might become quite eclectic. I am looking forward to gardening in pots - it is always so easy. They are virtually a weedless operation. All you need to do is water, feed and deadhead."
Anna Carol Wright also lives the urban life, also at Hobbs-Taylor. Her days, however, cannot exist without her passion - flowers. As an artist, she weaves this love into her world.
"What I lack in real flowers I make up for in my paintings," she says. "When I moved here, I left a very pretty garden in Georgia. I knew I couldn't live without flowers. I paint flowers. They are my passion. So I put up seven window boxes. It has been trial and error. I get a lot more sun than I realized. I've planted coleus, impatiens, mums and pansies. Last year I started with geraniums and sweet potato vine with coleus - they all did beautifully.
"You have to be more selective," she says. "It is a necessity."
Wright adds: "I miss having a regular garden, but not so much that I'd move, at my age though I have the perfect amount of flowers."
Wright and Roberts are still living a life of beauty after decades of large garden plots and relentless manual labor.
"It isn't that I like urban gardening," Wright says. "I like urban living. But, I must have at least a few plants."
For Roberts, she misses the tactile experiences that gardening provides.
"I suppose I dislike the fact that I cannot get my hands in the dirt," she says. "There is something almost spiritual about digging in the soil. It is so alive."
Copyright 2018 The Lawrence Journal-World. All rights reserved. This material may not be published, broadcast, rewritten or redistributed. We strive to uphold our values for every story published.