Photo Gallery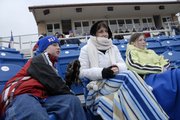 KU baseball opener
Baseball is full of superstitions such as the rally cap, not stepping on the foul line when taking the field and talking about a no-hitter or perfect game that's in progress.
So why not a samurai statue sitting on top of the dugout?
The new "mascot" for Kansas University's baseball squad made its first appearance in KU's home opener Wednesday against Le Moyne College.
The lucky charm apparently worked for the Jayhawks as they defeated the Dolphins from Syracuse, N.Y., 13-2 at Hoglund Ballpark.
"A former player, Ryotaro Hayakawa from Japan, gave us a little statue of a samurai figure, and we put him in the dugout today, and it led us to victory," senior left fielder John Allman said. "We figured we needed some fighting spirits today, so we brought him out. : We put him on top of the dugout, and he motivated a lot of people today."
Allman was 3-for-3 with an RBI double and a solo homer.
"I would like to thank the samurai fighting spirits that we had going on today in the dugout. That was the reason the ball got out and we had such a good game," Allman said of his shot in the sixth inning.
The new addition to the team got past Kansas coach Ritch Price, who didn't notice it until the game had started.
"I didn't know anything about it, OK?" Price said with a laugh. "I actually saw the little statue above the dugout and thought it got sent by Ryotaro to the players to wish them good luck. So that's all them, baby."
Senior Ryne Price, who played his second straight game behind the plate, was 2-for-4 with seven RBIs. Four of his RBI came from first collegiate grand slam.
Copyright 2018 The Lawrence Journal-World. All rights reserved. This material may not be published, broadcast, rewritten or redistributed. We strive to uphold our values for every story published.