Photo Gallery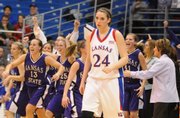 KU vs. K-State women's basketball
You look at a basketball box score and you notice a someone scored 29 points and grabbed 17 rebounds, and what do you think?
A big night for a big inside player, of course.
Not Wednesday night. Kansas State's Shalee Lehning posted those huge numbers in a 61-50 victory over Kansas University in Allen Fieldhouse, and Lehning is a point guard. Her listed roster height is 5-foot-9.
Against the Jayhawks, however, the bouncy junior from tiny Sublette in Southwest Kansas played at least a foot taller.
"That kid tore us up," KU coach Bonnie Henrickson said. "We didn't have any answer defensively."
Kansas didn't need an answer for Lehning in the first meeting between the two schools last month in Manhattan. Lehning took only six shots and scored just six points. This time, however, instead of penetrating and dishing like most point guards do, Lehning went to the hoop, scooping in layups with either hand again and again.
"I guess she smelled blood when she got that first layup," said LaChelda Jacobs, the KU guard most victimized by Lehning's assault on the basket.
Jacobs, a sophomore, made her first start of the season, replacing junior Ivana Catic who had started on the point in the first 28 games. Jacobs logged 35 minutes and scored 14 points.
"I liked LaChelda's aggressiveness and her fight," Henrickson said. "I didn't like her defense, but I don't regret making the move."
Despite Lehning's monster night - she eclipsed her previous career high by eight points while falling three shy of her rebounding high - the Jayhawks were in the thick of things with four minutes remaining.
Kansas had sliced K-State's 13-point lead to two with 4:12 left on a Jacobs' basket, and the Jayhawks were riding a wave of momentum.
Then the wave flattened out. The Jayhawks failed to score the rest of the way, wasting six trips down the floor with four bricks and two turnovers. Meanwhile, K-State regained control as Kimberly Dietz drilled a three-pointer, and Lehning wrapped up her tour de force with a traditional three-point play.
"I'd say that was more us than them," Henrickson said of the Jayhawks' late swoon. "We score 50 points. We're just a better offensive team than that."
Mostly, Kansas has struggled to score because of reduced possessions caused by excessive turnovers. But Wednesday night, the Jayhawks' 13 giveaways were about seven under their average.
"We got more shots," Henrickson said. "But we didn't make shots."
Kansas shot 39.2 percent (20 of 51). Danielle McCray (17 points) and Jacobs took 31 of those shots and made 13 combined. No other KU player scored more than six.
K-State also took 51 shots and made 22 (43.1 percent). Curiously, the Wildcats' offense was also a two-woman show, with Lehning and Dietz taking 34 of the 51 shots and converting 15. Dietz finished with 16 points.
Yet it was Lehning, averaging 10.8 points and 7.2 rebounds a game, who did the most damage.
"She saw she could beat us off the dribble," McCray said, "so she went one-on-one all night."
Of Lehning's 10 baskets, nine were in the paint.
"I take the blame," Jacobs said. "If I would have stopped her, we would have won the game."
Kansas State clinched a share of the Big 12 Conference title after sharing the league basement with Kansas last season. KU, meanwhile, finished in a tie for 10th with Texas Tech, but will be the 11th seed in next week's Big 12 Tournament.
The Jayhawks will meet No. 6 seed Nebraska at 8:30 p.m. Tuesday in Kansas City's Municipal Auditorium.
Copyright 2018 The Lawrence Journal-World. All rights reserved. This material may not be published, broadcast, rewritten or redistributed. We strive to uphold our values for every story published.