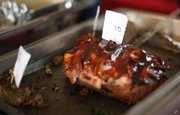 It can be made with hamburger. Pork. Turkey. Shrimp.
It can contain oatmeal. Bacon bits. Ketchup. Saltines.
It can be dressed up, dressed down, dressed in mashed potatoes.
It is - what else? - meatloaf.
The humble dish is one primed for the winter months, with its hearty texture, straight-from-the-oven warmth and helpful consumption of leftover ingredients. All those things describe exactly why Christina Hoxie loves the dish.
"It's a comfort food to me. It's that kind of 'sweep the kitchen mentality' of taking what you have and making something great from it," says Hoxie, of Lawrence. "It's a creative process, as is all of cooking, but it seems like meatloaf in particular has got a little bit of everything and it's a humble food that you can make with almost anything."
Loaf without limits
And what goes into a favored loaf was a big topic of discussion at the Great Lawrence Loaf Off on Sunday, where Hoxie, Steph Mott, John Reeves, Susan Paxon, Natalie Bye and Jana Mackey ran the event. Dozens of meatloaf lovers from all over Lawrence and the surrounding area convened at 411 E. Ninth St. to sample loaves in a cooking competition.
Lawrence's Sarah Sharma, for example, likes her meatloaf made from pork, saying, "Other than that, I won't eat it."
Dale Kurtz meanwhile, is partial to hamburger, and not the low-fat kind.
"You can't use too lean of hamburger, you've got to use a fat-type hamburger," the Lawrence resident says.
Loaf Off organizer Mott, whose loaf won the people's choice balloting at the event, says that for her, it doesn't matter what's in the loaf.
"For being so traditional, there are so many different ways to prepare it. Any meat, as long as it's in a loaf form, I don't really care," says Mott, whose winning loaf had shrimp and pork in it. "You have to take it and make it your own."
"There are no limits to the loaf."
For the love of the loaf
Walking from her home to the Loaf Off, Kelly Danaher also has a serious love of meatloaf.
"I did not have breakfast because I was so excited about the loaves," Danaher says. "You don't have to be in a certain mind-set, you just have to be into the loaf."
After finally sampling some of the 10 loaves, Danaher says that though she has never attempted making her favorite meatloaf - her mother's - at home, she thinks it is not something that she'd order in a restaurant. No matter how much she likes it.
"It kind of seems almost counterintuitive to me because, you know, meatloaf is what my mom cooked and if we were going out to eat, it would be something more fancy," Danaher says of ordering the dish at a restaurant. "I think of meatloaf as very much ... (something) that you throw together and something that the whole family eats."
Well, maybe not the whole family - or the community - depending on who you ask. Hoxie says that though the humble dish might not appeal to the nonmeat eaters in Lawrence, she and the other meatloaf die-hards who ran the event are hoping their Loaf Off can become something that brings the whole community together.
"I realize it's not for everyone, because we have a lot of vegetarians in our community here and in the future we do hope to expand to vegetarian loaves," Hoxie says. "Just making foods that hearken to our past and our family orientations and our community is what I'd really like to have grow from this tradition. Not necessarily the meatiness of it, though it's fun for us to think about and joke about.
"This is totally tongue in cheek, if you will."
Free-form meatloaf
3 ounces Monterey Jack cheese, grated on the small-hole side of a box grater (about 1 cup)
1 tablespoon unsalted butter
1 medium onion, chopped fine (about 1 cup)
1 medium celery rib, chopped fine (about 1/2 cup)
1 medium garlic clove, minced (about 1 teaspoon)
2 teaspoons minced fresh thyme leaves
1 teaspoon paprika
1/4 cup tomato juice
1/2 cup low-sodium chicken broth
2 large eggs
1/2 teaspoon unflavored powdered gelatin
1 tablespoon soy sauce
1 teaspoon Dijon mustard
2/3 cup crushed saltines
2 tablespoons minced fresh parsley leaves
3/4 teaspoon salt
1/2 teaspoon ground black pepper
1 pound ground sirloin
1 pound ground chuck
Glaze
1/2 cup ketchup
1 teaspoon hot pepper sauce
1/2 teaspoon ground coriander
1/4 cup apple cider vinegar
3 tablespoons packed light brown sugar
To make free-form pan: Fold aluminum foil to form a 10-by-6-inch rectangle. Center the foil on a metal cooling rack and plan the rack over a rimmed baking sheet. Poke holes in the foil with a skewer, about a half-inch apart. Spray the foil with non-stick cooking spray. This will keep the meatloaf from stewing in its own juices to make a greasy mess.
Adjust over rack to the middle position; heat oven to 375 degrees. Spread cheese on plate and place in freezer until ready to use. Prepare baking sheet.
Heat butter in a 10-inch skillet over medium-high heat until foaming; add onion and celery and cook stirring occasionally, until beginning to brown, 6 to 8 minutes. Add garlic, thyme, and paprika and cook, stirring, until fragrant, about 1 minute. Reduce heat to low and add tomato juice. Cook, stirring to scrape browned bits from pan, until thickened, about 1 minute. Transfer mixture to small bowl and set aside to cool.
Whisk broth and eggs in large bowl until combined. Sprinkle gelatin over liquid over liquid and let stand 5 minutes. Stir in soy sauce, mustard, saltines, parsley, salt, pepper and onion mixture. Crumble frozen cheese into coarse powder and sprinkle over mixture. Add ground beef; mix gently with hands until thoroughly combined, about 1 minute. Transfer meat to foil rectangle and shape it into a 10-by-6-inch oval. Smooth top and edges of meatloaf with moistened spatula. Bake until an instant-read thermometer inserted into the center of the loaf reads 135-145 degrees, 55-65 minutes. Remove meatloaf from oven and turn on broiler.
While meatloaf cooks, combine ingredients for glaze in small saucepan; bring to simmer over medium heat and cook, stirring, until thick and syrupy, about 5 minutes. Spread half of glaze evenly over cooked meatloaf with rubber spatula; place under broiler and cook until glaze bubbles and begins to brown at edges, about 5 minutes. Remove meatloaf from oven and spread evenly with remaining glaze. If desired, top with pieces of cooked bacon. Place back under broiler and cook until glaze is bubbling and beginning to brown, 5 minutes more. Let meatloaf cool about 20 minutes before slicing.
- Recipe adapted from "Cook's Illustrated" by Christina Hoxie
Copyright 2017 The Lawrence Journal-World. All rights reserved. This material may not be published, broadcast, rewritten or redistributed. We strive to uphold our values for every story published.