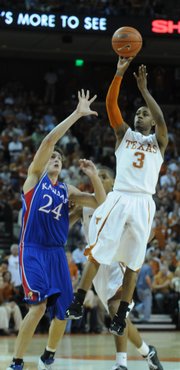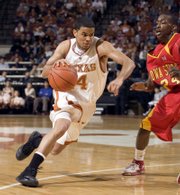 The Barnes era
UT NCAA Tournament results since coach Rick Barnes took over:
1998-99: First-round loss
1999-00: Second round
2000-01: First-round loss
2001-02: Sweet 16
2002-03: Final 4
2003-04: Sweet 16
2004-05: First-round loss
2005-06: Elite 8
2006-07: Second round
2007-08: --
Resume builders
Texas is the only team in the AP Top 25 poll that's defeated three teams in the Top 10. Those wins:
¢ No. 7 Tennessee, W 97-78 (Nov. 24, Newark, N.J.)
¢ No. 1 UCLA, W 63-61 (Dec. 2, Los Angeles)
¢ No. 3 Kansas, W 72-69 (Feb. 11, Austin, Texas)
Home success
Texas is 42-4 at home in Big 12 play the last five years:
2002-03: 7-0
2003-04: 7-1 (loss vs. Oklahoma State)
2004-05: 6-2 (losses vs. Iowa State, Oklahoma)
2005-06: 8-0
2006-07: 7-1 (loss vs. Kansas State)
2007-08: 7-0
Related document

Big 12 Spotlight 03-05-08 ( .PDF )
It might be difficult for the Texas Longhorns to secure a No. 1 seed in the NCAA Tournament after the loss to Texas Tech.
If Texas wins out in the regular season and advances to at least the Big 12 Tournament finals, though, it will have plenty to show the nominating committee.
No team in the Associated Press Top 25 poll has defeated three Top 10 teams this season. No team, that is, except the Longhorns.
Texas ran No. 7 Tennessee out of the gym on Nov. 24 with a 97-78 victory on a neutral court in Newark, N.J. UT then defeated No. 1 UCLA, 63-61, on Dec 2 at Pauley Pavilion. The Longhorns capped off their third Top 10 victory on Feb. 11 with a 72-69 victory over the No. 3-ranked Kansas Jayhawks at home.
Those victories look even better now. UCLA, Tennessee and Kansas are presently third, fourth and fifth, respectively, in the AP poll.
Texas coach Rick Barnes said he purposely chose difficult non-league teams earlier in the season.
"I will go back to when I was at Providence and what (former coach) Dave Gavitt said to me," Barnes said. "He said at the end of the year, if you don't get in the tournament because of your non-league schedule, there's no one to blame but you. He said you have a choice to decide how you want to play. Now do you want a schedule to get in the NIT? Schedule to get in the NIT. But if you want a schedule to get in the NCAA Tournament, you better be willing to play and not let your schedule work against you."
The closest any team has come to three Top 10 victories is Wisconsin. The Badgers have victories against No. 9 Texas, No. 11 Indiana and No. 12 Indiana.
Close, but not as decorated a resume as the Longhorns.
Texas, No. 9 in the AP poll, presently sits at 25-5 (12-3 Big 12) and atop the conference with Kansas. It wasn't supposed to be that way this year, according to Big 12 coaches.
Before the season, not one coach picked Texas to win the conference. Ten picked Kansas, while two picked Texas A&M;, which is fifth in the conference standings.
So how's Texas in position to win its second Big 12 title in three years?
One answer could be the emergence of guards D.J. Augustin and A.J. Abrams, who average a combined 36.2 points per game.
When Kevin Durant darted for the NBA, Augustin instantly became the Longhorns leader. Augustin, who receives at least one "best point guard in the nation" reference per national broadcast, gets his teammates involved consistently. His 5.83 assists per game are a large reason four UT players average double-digit point totals.
Abrams, who easily has more three-pointers than anyone in the Big 12, has been the primary benefactor of Augustin's ability to slash to the basket.
Defensively, the Longhorns have seen Connor Atchley and Damion James play monster roles. Atchley leads the conference in blocked shots, while James has been a beast on the glass. In fact, James averages a double-double with 12.5 points and 10.5 rebounds.
One more home game remains for the Longhorns - Sunday against Oklahoma State - for at least a share of the Big 12 title.
Copyright 2018 The Lawrence Journal-World. All rights reserved. This material may not be published, broadcast, rewritten or redistributed. We strive to uphold our values for every story published.