Photo Gallery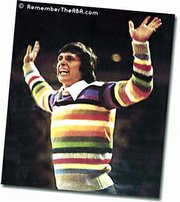 American Basketball Association
George Mikan, the league's commissioner, insisted on a red, white and blue ball because his flawed vision made it difficult for him to see the basketball.
One team official, thinking the list of draft-eligible players he was reading was based on talent, didn't realize the list was in alphabetical order and made Matt Aitch the franchise's first draft pick.
One player refused to sign a contract because he was holding out for a $1,000 bonus and didn't realize that the $1,500 he was offered actually was more money.
Player-coach Cliff Hagan was forbidden by ownership from playing anymore because he threw too many punches on the court. He broke that ban, put himself in a game and within five seconds hauled off and clocked an opposing player, a punch the referee never saw.
Welcome to the American Basketball Association (1967-1976, R.I.P.), a professional basketball league getting another turn in the spotlight thanks to the Will Ferrell movie "Semi-Pro," which opened at No. 1 in the box office last weekend.
The movie also indirectly shines the spotlight one more time on one of the most entertaining sports books ever written. The aforementioned stories and hundreds of others were told in "Loose Balls," a book about the league written in oral history style by Terry Pluto.
Ferrell, speaking last month at a news conference on the Kansas State campus, said he read the book and listed as his favorite story in it, "Marvin Barnes, who played for the St. Louis Spirits, refused to fly on a plane that was changing time zones because he was afraid it was a time machine. That's probably my favorite because I have those same fears myself."
The story, inspired by Barnes not understanding how an airplane could leave Louisville at a later listed time than it arrived in St. Louis, was told by Bob Costas, then a rookie announcer for the St. Louis Spirits.
Larry Brown, MVP of the first ABA All-Star Game and a three-time league leader in assists, later coached a game in overalls and was such a flashy dresser at other times he became known as "The Modfather." Wilt Chamberlain routinely coached wearing sandals.
Some of the arenas were dumps, but the league's talent was undeniable.
The ABA gave the NBA more than just the three-point shot and the slam-dunk contest in the All-Star Game. It gave the league loud talent.
Julius Erving, Connie Hawkins, Rick Barry, Spencer Haywood, George Gervin, George McGinnis, Dan Issel, Artis Gilmore and David Thompson are among the alumni. In the first season after the merger - the Denver Nuggets, Indiana Pacers, New York Nets and San Antonio Spurs joined the NBA - 10 of the 24 All-Stars had played in the ABA.
In the ABA, the athletes played with far more flair and, as a result, tested the limits of their abilities. Players such as The Hawk and Dr. J tried things nobody imagined possible. It was as if they and others brought the game higher above the rim. They had a huge impact on the quality of play in the NBA getting better.
Stereotypes, such as the one the NBA had adopted about sub-6-footers being too small to play, died permanent deaths, thanks to the ABA.
To fill out the back ends of rosters on cash-strapped teams, tryouts routinely were held. One team even promoted its public relations director to playing status in order to save money late one season.
Ferrell's comedy draws heavily on actual events from the ABA, such as a player holding out for a refrigerator before he signed his contract, a possum causing a blackout at an arena by gnawing at electrical wiring, a team outfitting ball girls in tiny bikinis, a player-coach with a penchant for in-game fisticuffs, a player modeling wearing no clothes and using an ABA basketball to hide what needed to be hidden.
Brown, the former Kansas University coach, and three former Kansas players - Ron Franz (1965-67), Riney Lochmann (1964-66) and Dave Robisch (1969-71) were interviewed recently about their ABA experiences.
Brown, who isn't close to having coaching out of his blood, works in the front office for the Philadelphia 76ers.
Franz, a builder, lives in Germantown, Tenn. He said he has one house and one lot left, and he plans to retire to Florida after selling those.
Lochmann lives in Dublin, Ohio, where he works in sales for United Rotary Brush.
Robisch lives in Springfield, Ill., and works for the state government's department of human services.
The four men's reflections on the time they spent in the ABA:
Franz: At the beginning, you wanted to make sure your check was good, and you went immediately to the bank. I never did get a bad check. All my checks were good. (Singer) Pat Boone was our owner, so our checks were good.
Robisch: Mine was an interesting journey. It kind of typifies the players who came through the league, then the uncertainty of the franchises. My first year in the ABA was 1971-72 with Denver Rockets, and the starting point guard on that team was Larry Brown. I played my rookie season with Larry, and then he retired and moved into professional coaching. In 1974 and '75, we had the best record in basketball with Denver, and that was Larry's first year of coaching in Denver. I played with Larry, then he was my coach in Denver, and then after we had the best record in basketball, after that season, I got traded to the Baltimore Claws for Dan Issel. The Baltimore Claws never played a game. They were an expansion franchise, and they disbanded before they ever played a game, so then they had a dispersal draft, and I went to the San Diego Sails, and the San Diego Sails played 11 games and the franchise folded. And then I believe my rights might have been with the Spirits of St. Louis, but I'm not sure about that. If they were, I never went there, and I ended up going to the Indiana Pacers, and then that's when the leagues merged. ... It was crazy to say the least.
Brown: Oh it was phenomenal. We were the underdogs.
I remember being drafted by the Baltimore Bullets. They came to see me. (Coach) Buddy Jeannette said, 'You are smaller than we thought.' He said, 'How are you gonna guard Oscar Robertson, Jerry West or John Havlicek?' At the time all were averaging 30 a game. I said, 'I don't think anybody can guard them.' You look at our league now, little guys are making an impact. ... That league was phenomenal. People forget. When we went from ABA to the NBA, the NBA took four teams in their entirety. The other three they dispersed. They wouldn't let the ABA teams have any of them and wouldn't let us participate in the draft. Two of our teams won their divisions (in their first year) in the NBA. We won it and San Antonio won it without the draft and without the dispersal draft. It showed how talented that league was. The first All-Star Game, half the guys were ABA players.
Franz: Connie Hawkins was the first guy who did the windmill dunks. I had the pleasure of trying to guard him. I wouldn't say it was such a pleasure. In his prime, I would put him against Dr. J. That's pretty much how it was. Nobody got to see him, when he finally went to Phoenix. Everyone was saying, 'You gotta see The Hawk.' I said, 'Yeah right.' When I saw him I was amazed. His hands were huge, I bet bigger than Dr. J.'s."
Robisch: The young Julius Erving, when everybody saw what Michael Jordan did, I can honestly say I saw Julius play in the early ABA days, and anything Michael Jordan did, Julius Erving had already done it and done it just as well. It's jut that not as many people saw it. The things the guys did in the ABA really changed the flavor of the NBA.
Lochmann: It was a great time. I played the first three years of the league. We were kind of pioneers. There were probably thousands of players who went through for tryouts. They would bring players in left and right every day.
Franz: We'd come back from road trip, three guys trying out. I asked one guy 'When's the last time you played basketball?' He said, 'About two years ago. Coach (Bruce) Hale called me and asked if I wanted to try out for the team, and he said all my expenses would be paid.' The guy got a week vacation, all expenses paid, in San Francisco. And there was a fight in a game every other night.
Lochmann: I played for Cliff Hagan. I remember when he and Les Hunter got in a fight. Cliff looked like somebody cut him with a knife on the face. They were always trying to take advantage of Cliff. He couldn't jump much anymore, but he could still shoot that hook. He would bring in players for tryouts and play them one-on-one. If he beat them, he cut them. The first week we had more than 100 guys in for tryouts, then cut it down to 20 and brought those 20 back for a second round of cuts. They brought players in for tryouts the whole season.
Franz: I was down in Miami, playing for the Floridians, who introduced the ball girls. They were in bikinis. They traveled with us to New York, but the owner had them stay in a separate hotel. I don't know why. He didn't trust the guys, I guess.
Lochmann: There were some real characters in the league. Billy "The Hill" McGill. He was 6-9 and had a jump hook, but he couldn't jump an inch off the floor. He led the nation in scoring playing at Utah. I don't know how a guy who couldn't jump an inch off the floor could lead the nation in scoring, but I think he did. He was a character. Then there was Manny Leaks, a 6-7, 6-8 center who had played with Calvin Murphy at Niagara. He could jump out of the gym. Lavern "Jelly" Tart was a character. Maurice "Toothpick" McChardley played with a toothpick in his mouth. The whole time you're thinking, 'Geez, don't swallow it whatever you do.'
In the end, the NBA swallowed the ABA, allowing four of its teams to join them in a merger. During its nine seasons, the ABA lost a lot of money for a lot of people, supplied tons of laughs for generations, and changed the game of basketball for the better.
Copyright 2018 The Lawrence Journal-World. All rights reserved. This material may not be published, broadcast, rewritten or redistributed. We strive to uphold our values for every story published.