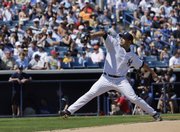 Andy Pettitte looked focused, and Mike Hampton was healthy. Everything went just right Sunday for two left-handers with plenty to prove this spring.
After spending the past few months answering questions about performance-enhancing drugs, Pettitte pitched two scoreless innings for the New York Yankees in a 7-7 tie with the Philadelphia Phillies at Tampa, Fla.
He allowed an infield hit and picked off a runner at first base with owner George Steinbrenner and his son, senior vice president Hank Steinbrenner, watching from a suite.
"All in all, I was real happy," Pettitte said. "It definitely was a good day."
Pettitte struck out one, walked one and induced an inning-ending double play in the first. He threw 13 of 21 pitches for strikes in his first outing since apologizing last month for using human growth hormone in 2002 and 2004.
At Kissimmee, Fla., Hampton pitched two scoreless innings in his first appearance against major-league batters in two years, helping Atlanta beat a Houston split squad, 6-4.
Hampton has been sidelined with shoulder and elbow injuries and, most recently, a leg injury. He hasn't pitched in a big-league game since 2005, but Braves manager Bobby Cox said he still has Hampton slated to start.
"I am not going to downplay the importance of today," Hampton said. "It's a step-to-step process to get ready by opening day, but this was promising."
In other news, Chicago Cubs outfielder Alfonso Soriano broke his right middle finger when he was hit with a flyball during fielding drills in Mesa, Ariz. He is expected to miss three to five days.
Also:
Brewers 4, Angels 2
At Phoenix, Prince Fielder bristled about having his contract renewed for $670,000 before going 1-for-1 and making a circus play at first base in the third inning when his glove was knocked off his hand by a sharply hit grounder.
"I'm not happy about it at all," Fielder said. "The fact I've had to be renewed two years in a row, I'm not happy about it because there's a lot of guys who have the same amount of time that I do who have done a lot less and are getting paid a lot more."
Mariners 6, Padres 2
At Peoria, Ariz., NL Cy Young Award winner Jake Peavy gave up four hits and two runs in two innings.
Mets 6, Dodgers 5
At Vero Beach, Fla., Derek Lowe blanked New York for two innings.
Twins 8, Red Sox 2
At Fort Myers, Fla., Clay Buchholz, trying to nail down the fifth spot in Boston's rotation, allowed hits to his first five batters and gave up four runs in two innings.
Blue Jays 8, Reds 4
At Dunedin, Fla., Matt Stairs homered off new Reds closer Francisco Cordero. Blue Jays starter A.J. Burnett allowed two runs and three hits in two innings.
Rays 7, Pirates 5
At Bradenton, Fla., B.J. Upton tripled in two runs and scored for Tampa Bay.
Orioles 11, Nationals (ss) 10
At Fort Lauderdale, Fla., Nick Markakis hit his first homer this spring. He is batting .571.
Indians 3, Tigers 1
At Winter Haven, Fla., Jake Westbrook and seven other Cleveland pitchers held Detroit's to four hits.
Nationals (ss) 8, Astros (ss) 3
At Kissimmee, Fla., Ryan Zimmerman hit a two-run homer, and Wily Mo Pena and Ronnie Belliard added solo shots.
Diamondbacks (ss) 7, White Sox (ss) 6
At Hermosillo, Mexico, Nick Swisher hit two home runs and a triple for the White Sox.
Diamondbacks (ss) 12, White Sox (ss) 5
At Tucson, Ariz., Javier Vazquez gave up two homers and five runs in 21â3 innings.
Mexican National Team 2, Rockies (ss) 1
At Tucson, Ariz., Jeff Francis threw 45 pitches, allowing one earned run in three innings.
Athletics 3, Rockies (ss) 2
At Phoenix, Oakland's Bobby Crosby hit his second home run of the spring.
Giants 8, Cubs 6
At Mesa, Ariz., Matt Cain pitched three scoreless innings in his spring training debut for San Francisco.
Copyright 2018 The Associated Press. All rights reserved. This material may not be published, broadcast, rewritten or redistributed. We strive to uphold our values for every story published.