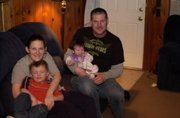 How to help
The De Soto Veterans of Foreign Wars Post 6654 will have a band and barbecue night from 6 p.m. to midnight March 15. Admission is $15 a person. Collection jars for donations to assist with Tara Dalton's medical bills have also been placed at Team Bank, Beer 20, the De Soto Pizza Hut, Meiners Market and De Soto J-Mart.
Tara Dalton returned Feb. 15 to Overland Park Regional Medical Center as a celebrity.
"It was kind of funny when we went back. It was a big thing," Dalton's fiance, Keith Hutchings, said. "Everybody knew her name, and they took her right up to a private room."
She was there for treatment for a bout with the flu. But what made her a celebrity was her visit less than three weeks before, when the 25-year-old De Soto woman was saved by the hospital staff - being pulled back from the brink of death several times during emergency heart surgery.
"She's the best save I've had in 12 years of practice and certainly one of the most gratifying" said Dr. Richard Thompson of Overland Park Cardiovascular Inc. "An 11-week-old baby and 3-year-old not having a mother around any more? It's truly one of the most fulfilling cases I've ever been around."
Dalton's crisis started the evening of Jan. 29 soon after she returned to her home after picking up pizza for Hutchings and her 3-year-old son, Evan Murphy. The chest pains she had been experiencing since the Nov. 5 birth of her second child, Aspyn Hutchings, were more severe, and she felt light-headedness, nausea and chest pains.
Hutchings called 911. Dalton's heart checked out fine on two electrocardiogram readings performed at the couple's home, but the symptoms persisted after the EMTs left.
"I thought maybe I had the flu that was going around," Dalton said. "I thought maybe it was angina or gas. I was thinking maybe if I lay down and got some rest I'd feel better."
"Something wasn't right," Hutchings said. "Doctors told me if we had (gone) to bed that night, I would have been the only one to wake up."
Surgery required
They headed to Overland Park Regional Medical Center feeling somewhat guilty, but those emotions disappeared when an EKG there showed an erratic heart pattern.
Things quickly got worse. As the hospital's staff prepared Dalton for surgery to look for blockage to the heart, Dalton's heart stopped beating for the first of five times during what would be more than seven hours of surgery.
Thompson speculates Dalton developed a small tear in the inside layer of one of two main arteries to the heart. Then the tear grew, allowing blood to seep between the artery's two inner layers. The inner wall pulled away, shutting down blood to the heart, Thompson said.
Dalton probably developed a small tear during Aspyn's birth, Thompson said. Pregnant women produce hormones that soften the uterus to ease childbirth and the same hormones soften blood vessels to allow the flow of extra blood needed to support the mother and baby, Thompson said.
In two to three cases per 100,000 births, the weakened blood vessels can lead to problems such as those Dalton experienced, Thompson said. But those are generally seen in women age 35 or older with risk factors such as diabetes or high blood pressure.
Dalton needed a heart bypass. The family was told that she had a 2 percent chance of surviving.
"We were pretty candid with the family. She basically died in the emergency room," Thompson said.
Thompson credited Dalton's survival to a team effort involving the hospital emergency, surgical and intensive care unit staffs, including Thompson's partner, Dr. George Pierson, and Dalton's family.
"Two ICU personnel volunteered so that somebody would be in her room full time," he said. "Her family was there for her the whole time."
Maternal concerns
Dalton said her last conscious thoughts as she was being prepared for surgery were of her children.
"Of course my kids were the first thing that came to my mind," she said. "What if I wasn't there for my kids?"
Thompson counted Dalton as a team member, too, and credited her feelings for her children for helping her beat the odds.
"Doctors and nurses came in and just stared at me," Dalton said. "They said they were a little astonished because I had almost died. I actually did five times."
After six days in intensive care and one more day in the hospital, Dalton returned home. She is still weak and was told not to drive, exert herself or lift more than 10 pounds, meaning she can't pick up Aspyn.
Dalton, who lost her medical insurance shortly before her crisis, also returned home with a hospital bill of "hundreds of thousands of dollars" and a $450-a-month prescription drug bill.
The De Soto Veterans of Foreign Wars post has scheduled a fundraiser this month, and collection jars have been placed at several businesses across town.
Dalton looks forward to being able to lift Aspyn, putting the baby down for the night and doing the simple homemaking duties she used to take for granted.
Thompson and the hospital staff find joy in Dalton's being there for her family, and the doctor said he is considering writing about her case for a medical journal.
"If for nothing else than to remind people that although this is rare, it still happens," Thompson said. "This is very rare. She didn't fit the profile. Sometimes patients don't read the books."
Copyright 2018 The Lawrence Journal-World. All rights reserved. This material may not be published, broadcast, rewritten or redistributed. We strive to uphold our values for every story published.