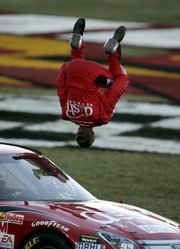 Las Vegas — Making his second visit in six days to Victory Lane, Carl Edwards triumphantly raised the glittering gold belt he earned at Las Vegas Motor Speedway.
In a town known for title fights, Edwards emerged as a heavyweight contender Sunday.
"We do this to win. Winning these races is the greatest," Edwards said. "Winning a championship would be the ultimate. What we're trying to do is win the championship this year. That's our No. 1 goal."
Just three races into this new season, it's far too early to call Edwards the favorite to win the Sprint Cup title. And this victory may not be controversy free: NASCAR discovered the lid was missing from his oil-tank box during postrace inspection and is taking his Ford back to North Carolina for further inspection.
But in winning his second race in six days, he moved to the top of the points standings for the first time in his career - 21 points ahead of Kyle Busch.
Edwards earned it by overcoming an early pit-road penalty, escaping NASCAR punishment on a second pit-road mishap, then holding off a rusty Dale Earnhardt Jr. on a pair of late restarts Sunday.
Edwards, who scored his first win of the season in Monday's rain-postponed event in California, celebrated win No. 2 with his trademark backflip.
For Edwards, it seemed like a return to his 2005 form, when he finished third in the series standings.
"I think we are close to the form we were in 2005 when it seemed like a Roush Fenway car would win every week," Edwards said.
Two-time series champion Tony Stewart bruised his foot 108 laps into the race when his right front tire failed and he hit the wall for the second straight day.
"I was kind of worried. My legs, my entire legs from my hips down were just tingling," Stewart said. "And I had pain in my lower back, and that kind of scared me a little bit. I've not had my legs tingle like that before."
He slowly climbed from his car and gingerly walked with the assistance of two emergency personnel into a waiting car that took him to the infield care center. He said the tingling sensation had improved before he left the care center and said he still planned to participate in the Cup test scheduled for today and Tuesday in Phoenix.
"It's going to be a miserable next two days," he said. "I was already sore. We'll do what we've got to do the next two days."
Copyright 2018 The Lawrence Journal-World. All rights reserved. This material may not be published, broadcast, rewritten or redistributed. We strive to uphold our values for every story published.