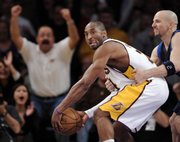 Los Angeles — Kobe Bryant scored 30 of his 52 points in the fourth quarter and overtime Sunday to lead the Los Angeles Lakers to a 108-104 victory over the Dallas Mavericks.
Bryant hit the 50-point mark for the 22nd time in his career and first time this season. He went 15-of-27 from the floor and 20-of-27 from the line.
Cavaliers 95, Bulls 86
Cleveland - LeBron James scored 37 points, including six in a key stretch late in the game, to lead the Cavaliers. Drew Gooden had 11 points and 10 rebounds for Chicago.
Rockets 103, Nuggets 89
Houston - Tracy McGrady scored 22 points, Shane Battier added 20, and Houston tied a franchise record with its 15th straight victory.
Spurs 93, Nets 83
East Rutherford, N.J. - Tony Parker had 25 points, eight rebounds and seven assists.
Wizards 101, Hornets 84
Washington - Antawn Jamison had 28 points and nine rebounds, and Washington beat New Orleans for its fourth win in five games and second over the Hornets in a week.
Bobcats 110, Raptors 98
Charlotte, N.C. - Jason Richardson scored 30 points, and Charlotte took advantage of Chris Bosh's absence.
Celtics 98, Hawks 88
Boston - Paul Pierce scored 30 points, 17 in the pivotal third quarter, and Kevin Garnett had 20 points and 16 rebounds to lead Boston to its fifth consecutive win.
Pacers 128, Bucks 106
Indianapolis - Mike Dunleavy tied his career high of 36 points for the second straight game.
Sonics 111, T'wolves 108, OT
Minneapolis - Kevin Durant scored 25 points.
Warriors 110, Blazers 104
Oakland, Calif. - Stephen Jackson hit six three-pointers.
Kings 120, Heat 109
Sacramento, Calif. - Ron Artest scored 32 points.
Copyright 2018 The Associated Press. All rights reserved. This material may not be published, broadcast, rewritten or redistributed. We strive to uphold our values for every story published.