Photo Gallery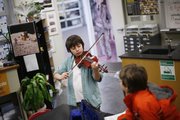 4-H Club Day
Just minutes before their performance, two young Lawrence sisters stood outside South Junior High School's auditorium doors, anxious to begin their dramatic American Sign Language signing performance.
"Oh my gosh, it's almost 9:10 a.m.," said Martha Keslar, 14.
Martha and Maggy Keslar were among the 71 youths at the Douglas County 4-H Club Days event Saturday.
The event showcased talents ranging from speech and dance to music and acting.
Participants in each of the 15 categories were judged on their performances. Top-ranking individuals will compete regionally in March.
The sisters performed their own rendition from "Don Quixote," which has been adapted for operas and ballets.
"It's for two people, and it's kind of a challenge," said Maggy, 12, about choosing the piece.
Martha was born with a hearing impairment. She learned sign language growing up, as did her sister to communicate with her.
Theirs was a unique performance, and it represented exactly what the 4-H Club wants to represent: diversity.
The Keslars are one of two families in the Kanwaka 4-H Club who live in Lawrence, not in the country, Martha said.
She said events like Club Day help to break down the stereotype of 4-H being just for people who live in the country.
The event does more than that, according to Emily Morehouse, 4-H youth development agent for the Douglas County Extension Office.
She said the event builds self-confidence, self-esteem and responsibility. Morehouse was involved in 4-H growing up in Illinois, she said.
"I think we can reach out to people who think it's just for kids in the country," she said. "Performance arts is something that separates them from a lot of groups."
The eight weeks of preparation paid off for the Keslars. They received the top entry in the Dramatics category to move on to the regional competition.
Copyright 2018 The Lawrence Journal-World. All rights reserved. This material may not be published, broadcast, rewritten or redistributed. We strive to uphold our values for every story published.