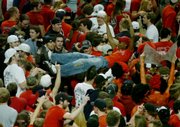 Lubbock, Texas — Pat Knight ratcheted up practice his own way after Texas Tech lost by 44 points earlier this week.
It seemed to make a difference in his players' efforts as the Red Raiders beat No. 5 Texas, 83-80, on Saturday.
Bob Knight, said his son, did "regular old drills" that in some way involved basketball. On Thursday, the younger Knight left the court behind and made his players run sprints while carrying weights. Then they shot lots of free throws. After that Pat Knight made them carry tractor tires and then flip them over - in relay races.
"I honestly believe they might have wished my dad didn't retire after Thursday," Pat Knight said. "I wanted to take it up a notch. I wanted to leave my stamp on it, so I think everything was pretty original that we did."
Alan Voskuil scored 18 points, including six straight free throws down the stretch.
Martin Zeno scored 15 points and Trevor Cook and Charlie Burgess each added 14 for the Red Raiders (15-13, 7-7 Big 12), who made 34 free throws in the game including hitting all its last 10 to stave off the comeback.
Texas Tech fans stormed the court after the win, Pat Knight's and the Red Raiders' second over a Top 25 team since he succeeded his father as coach in early February.
Pat Knight said his game plan was solely focused on offense.
"We wanted to push it on them, we weren't going to back down or try to slow it up," Pat Knight said. "I wasn't worried about making one, two, three passes; if you're open just shoot."
D.J. Augustine scored 30 points and A.J. Abrams added 14 for the Longhorns (24-5, 11-3), who had an eight-game winning streak snapped.
"We got beat. I mean, I can't be any more specific," Texas coach Rick Barnes said. "Texas Tech beat us today. I don't want anyone to think it is anything but that."
Oklahoma 64, Texas A&M; 37
Norman, Okla. - Longar Longar had 14 points and eight rebounds and Oklahoma held Texas A&M; scoreless for more than 16 straight minutes as the Sooners beat the Aggies.
Oklahoma (19-10, 7-7 Big 12 Conference) snapped a two-game losing streak.
The Sooners set what is thought to be an NCAA record for the longest time holding an opponent scoreless, since the advent of the shot clock in 1986, by blanking Texas A&M; for 16 minutes and 12 seconds. The record entering this season was 13 minutes and 53 seconds, set by Utah State against Idaho on Feb. 15, 2006.
Texas A&M;'s 10 first-half points set a Big 12 record for the fewest points scored in a half of a conference game and a school record for fewest points in a half in any game. The 10 points also were the fewest allowed by the Sooners in a half since giving up nine to Coppin State on Dec. 10, 2006.
Baylor 100, Missouri 89
Waco, Texas - Baylor overcame a 13-point second-half deficit and had seven players in double figures. Henry Dugat scored 18 and Tweety Carter had 17 for Baylor (20-8, 8-6 Big 12). Kevin Rogers recorded a double-double with 12 points and 12 rebounds. LaceDarius Dunn scored 16.
Colorado 67, Iowa State 55
Boulder, Colo. - Marcus Hall had a career-high 31 points and eight rebounds, and Richard Roby added 17 as Colorado celebrated senior day. Wesley Johnson had 13 points for Iowa State, which has lost three straight and seven of its last eight.
Oklahoma State 77, Nebraska 63
Stillwater, Okla. - Byron Eaton scored 20 points, and Oklahoma State continued its surge from the bottom of the Big 12 standings. Eaton had a pair of three-pointers from the right wing as Oklahoma State extended its lead with a 13-3 run early in the second half.
Copyright 2018 The Associated Press. All rights reserved. This material may not be published, broadcast, rewritten or redistributed. We strive to uphold our values for every story published.