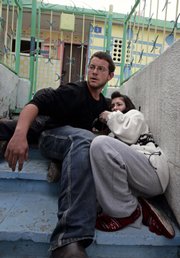 Gaza City, Gaza Strip — It was the middle of the night when the battle between Israeli forces and Palestinian militants reached Tareq Dardouna's house in northern Gaza.
Tending to four wounded people as children cried and screamed, he told of a relative who was killed.
"His body is still on the ground," Dardouna said in a telephone interview. "Ambulances tried to come, but they came under fire ... We are in a real war."
At least 54 Palestinians, about half of them civilians, were killed Saturday in the deadliest day in Gaza since the current round of fighting erupted in 2000.
Israeli forces went on the offensive to try to stop daily rocket barrages that have reached closer to its populated heartland than ever before. Two Israeli soldiers were killed and seven were wounded in the clashes, the military said.
Many of the civilians were caught in crossfires, like those in Dardouna's neighborhood, but Palestinians charged the Israelis were firing indiscriminately, labeling the offensive with emotionally charged terms - "genocide" and "holocaust."
The swelling violence came amid Israeli threats to launch a broad invasion of Gaza, and threatened to swallow up Secretary of State Condoleezza Rice's peacekeeping mission to the region next week.
In Washington, National Security Council spokesman Gordon Johndroe expressed regret for loss of civilian life on both sides but put most of the blame on the Palestinians.
"There is a clear distinction between terrorist rocket attacks that target civilians and action in self-defense," he said in a statement.
The U.N. Security Council met Saturday night behind closed doors in emergency sessions at the request of the Palestinians and their Arab supporters.
Early today, Israeli aircraft destroyed the office building in Gaza City used by Hamas Prime Minister Ismail Haniyeh, witnesses said. Five people were lightly wounded in the raid.
While expressing regret for civilian casualties, Israeli Defense Minister Ehud Barak blamed "Hamas and those firing rockets at Israel," the statement said, pledging to continue the offensive to protect Israeli towns and cities.
On Friday, Israeli Deputy Defense Minister Matan Vilnai renewed a threat to invade Gaza to crush militant rocket squads that attack southern Israel daily.
At least two dozen Palestinian civilians, including a baby, were among those killed, and militants said 25 fighters died. Health officials said about 200 people were wounded, 14 of them critically.
The overall death toll was the highest in a single day since the present round of violence erupted in September 2000. The highest previous death toll was 38 on March 8, 2002.
The intense fighting Saturday pushed the Palestinian death toll to more than 80 since fighting flared Wednesday. About half of those were civilians.
Palestinian fighters kept up a steady stream of rocket and mortar attacks on Israeli targets, firing around 50 on Saturday alone in defiance of the Israeli assault. Six Israelis were injured by rockets that reached as far as Ashkelon, a coastal city 11 miles north of Gaza.
The Israeli military said one of its airstrikes on northern Gaza targeted a parked truck loaded with 160 rockets.
On Thursday, militants raised the stakes by firing Iranian-made rockets into Ashkelon, striking closer to Israel's heartland than ever before and putting more Israelis at risk. Palestinian rocket fire earlier in the week also killed an Israeli man.
Shortly before midnight Friday in the northern town of Beit Hanoun, a 13-month-old girl was killed by shrapnel. Hamas blamed Israel, but residents said a militant rocket fell short and landed near the baby's house. The day's violence snowballed from that point on.
Copyright 2018 The Associated Press. All rights reserved. This material may not be published, broadcast, rewritten or redistributed. We strive to uphold our values for every story published.