Photo Gallery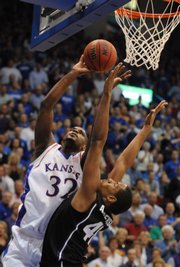 KU vs. KSU
Identify the weakness. Go after it. At the first sign of blood, turn up the ferocity. It's the oldest trick in sports, and man oh man, did the revived Kansas University basketball team ever execute it Saturday night inside an Allen Fieldhouse so loud that 32,600 ears remain ringing today.
The weakness KU exploited resides between Kansas State freshman Bill Walker's left ear and his right. The Jayhawks attacked him, drew him into foul trouble on a night the officials brought their friends ticky and tack with them and turned him into a moping spectator who left teammate Michael Beasley to fight the battle alone. One man, even the most talented college basketball player in the land, couldn't do it alone.
Beasley scored 39 points in an 88-74 loss to a KU team that put its February funk in the rear-view mirror. None of Beasley's teammates reached double figures. Five of his opponents did. Walker checked out mentally to such a degree that his coach, bug-eyed rookie Frank Martin, played him only 19 minutes.
"I don't think he's a real tough-minded guy," KU point guard Russell Robinson said of Walker. "He got on a bad track and stayed on it. ... That was our game plan. That was our goal. Beasley's a great player. We knew he was going to get his points. We just couldn't let Walker score a lot of points, too."
Brandon Rush, whose focus didn't wander on this intensity-filled night, took note of a player whose purpose vanished.
"In the second half, he didn't want to be out there," Rush said of Walker. "He sat the bench because he lost his composure, lost his poise."
What Walker lost, Kansas regained.
KU headed to Manhattan on Jan. 30 with a 20-0 record. The Wildcats sent Kansas home with its first loss, and the hangover from it led to a funky February. Maybe all the Jayhawks needed was a little hair of the 'Cats that bit them.
On the first night of March, Kansas played like the team that climbed as high as No. 2 in the national rankings. It all started with Robinson. During the funk that started in Manhattan, too often Robinson was taken for rides by opposing point guards. He was locked in retreat mode.
On this night, he took his team for a speedy ride and received plenty of help from sophomore jet Sherron Collins. While Walker was cryin', Collins was back flyin', contributing 18 points and four assists. Robinson (14 points) rediscovered his shooting touch. Rush had that look in his eyes that he too seldom gets and buried K-State with 21 points. In a great moment, Rush even scolded Collins for whipping a cross-court pass out of bounds on the break and pointed to the spot on the floor, right behind where Collins was when he threw the pass, to let him know he was there, open for a shot, and hot enough to make it.
Kansas coach Bill Self cleverly removed Arthur from the game for a first-half stretch when he saw the game was being called so tightly. Arthur would foul out late in the game anyway, but KU didn't need a big night from him. Self, a stubborn believer in man-to-man defense, even threw a 3-2 zone, with Rush at the top, here and there. It worked. Everything did. Dick Vitale even treated a few lucky fans to a bonus, standing up to Frisbee fresh-baked chocolate chip cookies into their hands, giving them a sugary ending to a sweet night.
Copyright 2018 The Lawrence Journal-World. All rights reserved. This material may not be published, broadcast, rewritten or redistributed. We strive to uphold our values for every story published.