Photo Gallery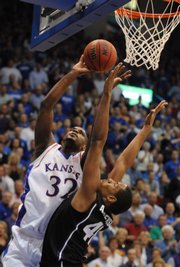 KU vs. KSU
Signs, signs, everywhere there are signs: A KU student could be seen three hours before the game making a sign that read, "Bill Walker, the bathroom is this way." It was in reference to the KSU freshman urinating into a towel on the KSU bench late in a preseason game at Bramlage Coliseum, rather than racing out of the tunnel to use the bathroom.
Other signs: "Welcome to Africa," "Hey Beasley, if you can win here, I'll pay for your safari," "Gatorade, Is it in you? It was in Bill Walker," "Bill Walker show up? It depends."
¢ NBA scouts on hand: In all, 11 NBA scouts attended, including 1988 title-team member Milt Newton, director of player personnel of the Washington Wizards.
KSU freshman Bill Walker said he ignores the scouts.
"When you press, you don't do the things you need to do. You just go out and play your regular game," said Walker, who had nine points in 19 minutes.
¢ Faces in crowd: Ex-Jayhawk centers Eric Chenowith, Greg Ostertag and Moulaye Niang attended. Blue-chip junior guard Elijah Johnson of Las Vegas sat behind KU's bench on an unofficial recruiting trip.
¢ Senior Day: KU will meet Texas Tech at 8 p.m. Monday on Senior Night. Postgame speeches will be given by seniors Jeremy Case, Darnell Jackson, Sasha Kaun, Russell Robinson and Rodrick Stewart.
Brandon Rush, who is expected to turn pro after the season, was asked if he's treating it as his Senior Night. "That's a trick question. No comment," he said with a laugh.
¢ GameDay chatter: About 3,000 fans showed for the 10 a.m. ESPN GameDay show starring Jay Bilas, Rece Davis, Hubert Davis and Digger Phelps.
Highlights included former Notre Dame coach Phelps dancing with one of KU's cheerleaders and fans spotting Sherron Collins at the proceedings, the fans giving the sophomore guard a prolonged ovation.
Phelps had this to say about the crazy season and coming postseason:
"Kansas has so much going for itself right now. Obviously losing at Oklahoma State was a wake-up call. What is amazing : when you look back over a season : I remember last year when Florida was No. 1 and lost to Vanderbilt. They were just waiting for March. It was like the Yankees and the old Yankee tradition. They wait 'til October for the pinstripes to show up.
"Florida : they lost some games in the regular season. When the postseason came they kicked it in and went 6-0. What people forget is their toughest game was against Butler in the Sweet 16. That was a close game for 38 minutes, then they (Gators) won by eight. Taking care of business against UCLA and Ohio State (in Final Four) was easy. Why? Those teams took themselves out of the game. Those teams combined 9 for 46 (from three)," Phelps noted. "You can't get to the Final Four and go 4-for-20 shooting threes. That's not what it's about. You have to be inside, outside and have a balanced attack. That's how teams win national championships."
Kansas, of course, with its top four scorers averaging between 13.7 and 12.2 ppg, has a balanced attack.
¢ Pullen has chip: KSU guard Jacob Pullen, who entered with a 10.3 scoring average and team-leading 90 assists, said he plays every game with a "chip on my shoulder because I feel people don't respect me. Like when we play against D.J. Augustin (Texas), people don't respect us. I want to prove I'm a good player and we're a good team.
"It's hard to focus on us (KSU guards) when you've got guys like Michael Beasley and Bill Walker. They are NBA-type players. They do things that NBA players do, so you go into a scouting report on Kansas State, you're looking at those two, trying to control them. Most teams will give up 20, 30 points to the guards as long as they can stop those two."
Copyright 2018 The Lawrence Journal-World. All rights reserved. This material may not be published, broadcast, rewritten or redistributed. We strive to uphold our values for every story published.