Photo Gallery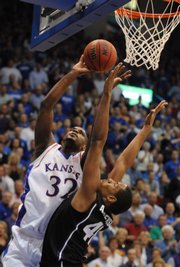 KU vs. KSU
The pain that lingers less and less each passing day in his right knee was the farthest thing from Sherron Collins' mind Saturday night.
Sure, the adrenaline of the situation once the game got under way had something to do with that. It was flowing for about two straight hours as Kansas University trounced Kansas State, 88-74, in Allen Fieldhouse.
But, as Collins admits, the presence of family made the ultimate difference.
"My mom came down, my son's down, so everything was happy for me," said the sophomore guard, whose filled-up stat line was highlighted by 18 points on 7-of-12 shooting. "Just this game took my mind off my knee. I wanted to beat K-State, but it was a plus to have my mom here."
Stacy Harris and 10-month-old Sherr'mari Marlon Collins arrived in Lawrence on Saturday, and the three of them spent the afternoon in Sherron's apartment.
The presence of Sherr'mari was enough to put a smile on Collins' face, but mom still had some words of wisdom.
"I told him, 'Be the beast that you are,'" Harris said. "And he did. He did fantastic today. I think he's back."
Few would have a hard time arguing the spark plug off the bench looks more and more now like the guy who totaled 32 points and 10 assists in the season's first two games before going down because of a stress fracture in his foot.
Collins' health has improved consistently since he went scoreless in 11 minutes Saturday at Oklahoma State, but against Kansas State he looked like the Collins of old for the first time in a while as the bone bruise in his right knee continues to fade.
The 18 points he totaled included a 3-of-7 showing from deep. He also had four assists (to just one turnover), four steals and three rebounds to his credit in 29 minutes. The amount of playing time tied a season-high that Collins set against UMKC on Nov. 11 and at Kansas State on Jan. 30.
"I wouldn't say (it felt like) years (since I've felt like that)," Collins said with a smile. "But I'd say it feels like months.
"Wednesday (at Iowa State), I didn't feel like I was tonight, but it was just turning around quick. I could feel it Wednesday. It was getting better. I was able to do stuff I wasn't able to do earlier in the week. Two days (later), it turned around."
And at a time in the season when Final Four hopefuls aim to be playing their best brand of basketball, Collins at full strength is a welcome sign for coach Bill Self.
"The last two days, he's moved better. The doctor says he's just going to keep getting better, the bruise is going to continue to heal, and he'll be where he's pain-free here real soon," Self said. "But I thought he was great tonight. That's what we've been missing for the most part of the entire year to have somebody that's that explosive who can change a game, and he certainly was a great spark tonight."
Copyright 2018 The Lawrence Journal-World. All rights reserved. This material may not be published, broadcast, rewritten or redistributed. We strive to uphold our values for every story published.