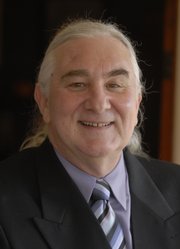 This week two years ago, John Spiridigliozzi was checking in for the night at a bed and breakfast in Wichita when an inn employee started quizzing the Lawrence resident.
"Are you here about BTK?" she asked.
"Well ... no," he said.
"Well, they got him today," she said.
All Spiridigliozzi could manage was, "Oh, really?"
Though surprised that the 31-year hunt for Kansas' most notorious serial killer had ended, Spiridigliozzi wasn't shocked at all when the man who killed 10 people appeared splashed across the news looking, well, normal.
"He's a psychopath, a clever psychopath," he says. "What are some of the misconceptions about serial killers? One of them is that they're completely dysfunctional people. You know, they look like a raving lunatic walking down the street, but the fact of the matter is that with a lot of them, who are intact to a certain degree psychologically, is that you would not know it. People, I think from the media, tend to think you're going to get the blabbering kind of crazed-look-in-the-eye killer.
"But you never know."
But Spiridigliozzi knows. As a forensic psychologist, it's his job to get into the minds of others. Serial killers, personal injury victims, eyewitnesses - he must understand what they think, how they think, why they think a certain way and digest that information into something that can be easily understood by someone outside his field. That's usually someone in law enforcement, whether it be a lawyer, a district attorney, judge or jury.
That sometimes means face time with serial killers in what Spiridigliozzi calls "the finer penal institutions in the Midwest."
"I do lots of testing of the person, psychological testing and mental evaluations, I go to court a lot to testify about the findings, I spend a lot of time writing," he says. "I do criminal law, family law, personal injury cases. So, yeah, I get to meet real interesting people and, you know, there's not a lot of folks who've met serial killers before ... so, I'm able to do that kind of thing.
"Except for a lot of people wonder, 'Why is John so interested in murder?'"
The accidental psychologist
Those around Spiridigliozzi weren't always asking that question.
As a teen, he had wanted to be a teacher, but when a high school teacher and counselor talked him out of it, it left him reeling with an impending draft number and the Vietnam War steaming ahead.
He ended up going into the Air Force and trained as a medic before learning the ropes as an occupational therapist. Then, as an undergrad, he took a job helping a psychologist administer and score testing.
Soon, he was hooked on psychology.
Eventually, his graduate work brought him to Lawrence and into the area of forensic psychology. These days, after 17 years as a forensic psychologist, he uses a battery of tests and knowledge to state his opinion of a person's mental faculties. He even does some good old-fashioned sleuthing in a forensic area called "psychological autopsy" or "equivocal death analysis." In it, he brings the departed back to life - or at least their mental state.
"It's where a person has died and there may be a question about whether or not it was a suicide or a homicide or something like that. A lot of things can be riding on that. It could be an insurance payment or it was a crime committed and they need to find a perpetrator of a crime," he says. "To help understand the person's state of mind 24 hours prior to their death."
How does Spiridigliozzi find inroads into the mind of the dead?
"You basically pore over all of the data and information you can get on the person, as well as to speak with as many people as you can find who knew him or her," he says. "You kind of put together a picture of the person's mental space to help understand, perhaps more in-depth, the cause of death."
More than murder
But it's not all murder and the dead who rule Spiridigliozzi's day-to-day work. He also is employed by attorneys to fill certain roles in nonmurder cases. He may consult with attorneys on their client's mental state, review mental-health reports prepared by other psychologists and help explain certain concepts about psychology, among other things.
Trey Meyer is a partner with the Lawrence-based law firm of Skepnek, Fagan, Meyer and Davis, P.A., where he practices complex civil litigation. In his line of work, he has used forensic psychologists, including Spiridigliozzi, on both sides of court cases.
"When you're representing the plaintiff, you use someone like Dr. Spiridigliozzi to help you prove your damages," Meyer says. "When you're representing the defendant, you use someone like Dr. Spiridigliozzi to evaluate the true nature and extent of that person's alleged psychological injuries and damages.
"It's not something you can get out a calculator and add up. A person has to have the requisite knowledge and experience and training before a judge will let him or her give that kind of testimony."
Mark Bowers has known, trained and worked with Spiridigliozzi for the past seven years and rents the office space below Spiridigliozzi's Psychological Resources Inc., at 1711 Mass., for his own office, Psych Solutions. The clinical child psychologist has tag-teamed with Spiridigliozzi on some forensic cases and says his mentor's 17 years in forensic psychology speak for themselves. After so many years in the business, it can be difficult, Bowers says, to escape accusations of being a nothing but a well-paid tool for the defense or plaintiff.
"I know John would say he never wants to get into a situation where he's doing too many of these for one side or the other, because then you start to get criticized and you start to get looked at like, 'Oh, well, you're always sticking up for the victim,' or 'You're always sticking up for the insurance company,' and that's not really what it's about," Bowers says. "It's about getting in there objectively, and in a nonbiased manner, and doing your job and answer these questions.
"John has managed, by his very strict adherence to the ethical code of our field ... to avoid that throughout his time. He's very good. That was someone I wanted to learn from."
And what has Spiridigliozzi learned from his nearly two decades in the forensic psychology business, untangling minds as twisted as those lodged inside serial killers?
"Some psychologists would argue that everyone has the potential to kill someone," he says. "I think if the circumstances, the environmental conditions (are right) could lead to something like that for a lot of people."
But does he walk down the street, analyzing passers-by, thinking he's just locked eyes with the next BTK?
"No," he says, shaking off the question. "You need to stay sane."
Copyright 2017 The Lawrence Journal-World. All rights reserved. This material may not be published, broadcast, rewritten or redistributed. We strive to uphold our values for every story published.