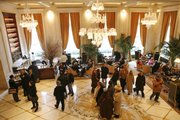 New York — Hundreds of New Yorkers and tourists alike flocked to The Plaza Hotel on Saturday for the landmark's reopening after a three-year, $400 million renovation.
"They say this place is the world's most famous hotel," said doorman Freddy Davila, who worked for the hotel for 15 years until it closed in 2005. "It's wonderful to be back," he said as he welcomed visitors up the red-carpeted steps.
"We just had to see inside," said Owen Mathieu, visiting from Marblehead, Mass. "We've seen it in the movies. Everybody's heard of it."
The Plaza, a National Historic Landmark overlooking Central Park, first opened in 1907. Marilyn Monroe was photographed here, and guests included the Beatles and Frank Lloyd Wright. Its ballroom was the setting of Truman Capote's "Black and White Ball" and the wedding of Richard Nixon's daughter Julie. Scenes were shot at the hotel for movies including "North by Northwest," "Barefoot in the Park," "Crocodile Dundee" and "Home Alone 2." Owners have included Conrad Hilton and Donald Trump.
The Plaza's current owners, Elad Properties, initially planned to convert all guest rooms into condominiums, but the plan was opposed by preservationists and the hotel workers' union. Negotiations with Mayor Michael Bloomberg led to a deal that resulted in 282 hotel rooms, down from the original 805, and 181 apartments.
Rates for the hotel rooms start at $1,000 a night.
"When you hear $1,000 a night for a room it might seem like a lot, but in the end it's not about the price, it's about the experience," said Bill Carroll, a professor at Cornell University's School of Hotel Administration. "It's such a unique destination. It really is about the cachet."
The restored features include gleaming mosaic floors, sparkling chandeliers and gold-trimmed ceilings. "They've done a nice job," said Ken Johns of Dallas, who remarked that it had gotten "a little dingy" before it closed.
General manager Shane Krige said the renovated guest rooms "bridge the world between the old and the new" with flat-screen TVs, electronic key cards, iPod docks and digital touch screens that let guests change lighting and temperature or call for assistance. Touches of old-fashioned opulence include faucets plated with 24-karat gold, mosaic bathroom floors and white-gloved butlers, one per floor, on call 24 hours.
Copyright 2018 The Associated Press. All rights reserved. This material may not be published, broadcast, rewritten or redistributed. We strive to uphold our values for every story published.