Photo Gallery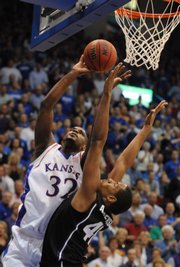 KU vs. KSU
Some thoughts...from Allen Fieldhouse
Gary Bedore, Journal-World KU men's basketball beat writer
"Great game from Sherron Collins as well as Brandon Rush. Beasley was fantastic with 39 points, but the Jayhawks were into it from the start and obviously desperately sought revenge on the Cats. Good win for KU; KSU is good, folks. Amazingly, however, the Cats have dropped four of five.
Tom Keegan, Journal-World sports editor
"A little hair of the dog that bit Kansas University on its final basketball game in January was just what was needed to welcome March, the month owned by college basketball. Michael Beasley had 39 points and his team never had a shot. All the February flu symptoms vanished for KU."
Ryan Greene, KUSports.com editor
"On Wednesday I believed Sherron Collins when he said he's getting close to being 'back,' and Saturday I believed him again when he indicated that he felt even better than he did Wednesday. The stats don't lie. Collins' 18 points were nice, but he had four steals and four assists, too, providing the spark off the bench that Bill Self said has been absent for much of the year. Again drawing back to Wednesday, Collins said he felt healthy enough to be the spark. Saturday he proved it.
Also, I cannot emphasize just how much I enjoyed watching Michael Beasley play. The guy is a treat, and Brandon Rush is right in saying that Beasley's a better player than Kevin Durant, mostly because he is a true inside-outside force. Bill Walker's seen better days, that's for sure. Given what he did against Texas and Saturday versus Kansas, he'd be silly to go pro in a couple months. But who knows what kids these days think."
Inside the numbers
15: A big part of the reason the Jayhawks were able to get out and running like they did was because of the 15 steals recorded on the night. The Wildcats turned the ball over 20 times and really never looked comfortable, outside of Michael Beasley in the game's final 30 minutes. Sherron Collins and Russell Robinson, two guys who needed badly to re-establish some defensive prowess, had four swipes apiece.
23: How often does a team record more offensive rebounds than defensive? That was the case for KU, otherwise the question wouldn't have been asked. KU had 41 total caroms to K-State's 34, but 23 of those came off the offensive glass. Sasha Kaun and Darrell Arthur had four each, while Darnell Jackson, Brandon Rush and Rodrick Stewart divided a total of nine of them evenly.
9: One big difference between the Jayhawks' Jan. 30 letdown in Manhattan and Saturday's redeeming win was the play of K-State freshman standout Bill Walker. Aside from scoring just nine points, with seven of those coming in garbage time, the athletic 6-foot-6 wing was taken out of the game mentally early on with two quick fouls to his credit. KU players said afterwards they felt that taking Walker's mind out of it could be done, and it certainly appeared to be done. Jacob Pullen, another freshman who lit up KU the first time around, scored just three points in 11 minutes played. The absences of those two left Michael Beasley's 39-point, 11-rebound performance stranded in need of support.
21: Brandon Rush played arguably his best game in Allen Fieldhouse yet, stringing together the two halves of basketball many KU fans envisioned him having when he first signed. His three-point stroke looked confident, and was true as a result. He was 5-of-9 from deep, finishing with 21 points, four rebounds and three assists.
18: The term 'Sherron of old' is getting tired at this point in the year, but Collins truly resembled it better than he has in recent weeks with his 18-point, four-assist, four-steal, three-rebound effort. He truly lived up to the billing of 'spark' off the bench and said he was able to put whatever lingering pain in his right knee there was behind him with the presence of his mother and son in the Fieldhouse Saturday night.
3: Russell Robinson, playing in his second-to-last home game, had the line of the night: 14 points, five assists, four steals, four rebounds, three blocked shots. You could say the three swats were his most impressive piece there, but the scoring output snapped a cold stretch for his shot which had lasted much of February.
Just in case you missed it...
Just as the crowd in Bramlage visibly had an effect on the Jayhawks once they got down to the Wildcats on Jan. 30, the Allen Fieldhouse throng did the same Saturday night to a frustrated K-State squad. The early fouls on Beasley and Walker put the Cats on edge, but once KU got rolling, the Fieldhouse was easily the loudest it's been all season. The momentum in the stands picked up again early in the second half after Darnell Jackson's put-back dunk, helping combat a late first half run from KSU.
Hopefully you didn't miss it...
KU got exactly what it needed out of its first game in March (no, not revenge). Bill Self's club returned to the form it showed in mid-January, when it was stomping opponents left and right on the way to a 20-0 start. With all of the pieces right now either at or near full strength and the shot of life supplied by getting even with Kansas State, expect a juiced team to take the floor for Monday's home finale against Texas Tech, where six seniors will have their final game appearance in Lawrence.
They said it...
Russell Robinson on the crowd: "The crowd in Manhattan was good, and our guys were 10 times better. And it was so loud, I couldn't even hear coach Self. Just a lot of emotions, and Game Day, all that stuff was in it. We just came out and played with a lot of energy...my ears were ringing, as well, and I love it. It just kept us intense. And since we had so much energy, it made up for a lot of our mistakes."
Russell Robinson on taking Bill Walker out of the game mentally: "We got him in foul trouble, which got him thinking a little. And I don't think he's a real tough-minded guy, and once he got on a bad track, he stayed on it. And we were able to just not let him get back into it."
Sherron Collins on the progress of his right knee: "Once you get the energy going, the adrenaline flowing, you forget about a lot of stuff, especially injuries. I probably felt it twice, pain-wise. Other than that, everything was going good. I'm a little bouncier right now...I wouldn't say (it feels like) years (since feeling at full-strength), but I'd say it feels like months. It was just good to get out there, get a little bit back and finally turn the corner on getting healthy."
Bill Self on the home crowd: "The crowd was fabulous. It was a good setting for a basketball game. Matter of fact, you could take the game in Bramlage and the game here and combine it, and it'll be the best atmosphere in a rivalry game in the country this year. Hands down."
Bill Self on Sherron Collins: "The last two days, he's moved better, the doctor says he's just going to keep getting better, the bruise is going to continue to heal and he'll be where he's pain free here real soon. But I thought he was great tonight. That's what we've been missing for the most part of the entire year to have somebody that's that explosive who can change a game, and he certainly was a great spark tonight."
Bill Self on what was different Saturday from late February: "The reasons why we were better tonight, we're running the same stuff, just guys had energy and bounce and they played with a little bit of a swagger tonight."
Bill Self on the Texas loss at Texas Tech: "I don't think we needed that as motivation, but there's no question we caught a break today. This is how geeked-up our players were. At pregame meal, after we eat, we always turn on the TV and watch the games while we eat, we always do that. We turn on the Texas Tech game, I asked the guys if they want to watch it, they said no...It may have been a little bit of motivation, but I don't think it had anything to do with us playing well."
Bill Self on Brandon Rush: "He was terrific offensively. He looked like a pro jumping up and shooting the ball. He was aggressive, he looked good shooting it, if you look at his stats, he still didn't shoot an unbelievable percentage, but he was good beyond the arc."
Bill Self on Russell Robinson: "Russell, that's Russell. Russell was good defensively and created havoc and also made some shots, we just haven't had consistent perimeter play like we got tonight. And so hopefully this can kind of springboard our guys into better performances closing out the year."
Bill Self on Michael Beasley: "He's hard to guard because I don't really know how you guard him because he creates contact. And when you create contact and shoot a lot of free throws, he's hard to guard. We saw Durant last year probably have if not his two best games, two of his best four games against us both times. And I think that's fair to say when he had outscored us 20-12 both games 10 minutes into it. So I feel like we're kinda experts on good performances, and tonight ranks right up there with what Kevin was able to do last year against us. He's a fabulous guard, and he's the best player in the country. He may not win National Player of the Year, but he's the best player. Hansbrough's having a fabulous year, and you can make a strong case for him, but from a talent standpoint, this guy's got some stuff that there's not a lot of guys in the (NBA) that have everything he's got."
Bill Self on the senior class, which will finish its home career Monday: "It's an unheralded class. There's no McDonald's All-Americans, there's just guys that came and basically gave their heart and soul to this place...107-23, which isn't the winningest class ever at KU, but it ranks right up there pretty high. A lot of guys get more attention, but this has been a fabulous class. I hope that everybody - all our fans and of course our other players and coaches - we need to make sure they go out in style on Monday, and it won't be easy because we're playing a team obviously that should be pretty confident because of the way they performed today."
Copyright 2018 The Lawrence Journal-World. All rights reserved. This material may not be published, broadcast, rewritten or redistributed. We strive to uphold our values for every story published.