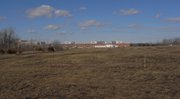 Developers who bought land at the edge of Lawrence hoping for a windfall by building homes, shops, offices or anything else to feed a growing population now are finding themselves on the cusp of turning a profit for the most unexpected of reasons.
Among them: Wheat selling for more than $12 a bushel.
Recent record and near-record grain prices - for the wheat, corn and soybeans that dominate agriculture in Douglas County - are giving developers at least a little reason to smile amidst a local economy that has seen home construction sputter, commercial projects idle and industrial speculation remain a long-in-the-future hope.
Doug Compton, for one, has enjoyed climbing on a tractor and working the 1,000 acres of fertile agricultural ground he owns, spread out on seven farms in the county for corn and soybeans.
Now he's looking forward to perhaps raising a bit of green, too.
"I've never made money farming," said Compton, whose local agricultural holdings pale in comparison to his portfolio of personal developments and others handled by his construction and management company, First Management Inc. "It's a different picture."
The rural landscape is changing this year for farmers across the county, as commodity prices continue riding a wave spurred by demand for ethanol fuels, response to poor growing seasons in international markets, and rising consumption by China and other countries.
'Bright spot' welcome
Such market forces normally wouldn't prompt Lawrence-area developers to take much notice, but these days - with home construction in Lawrence at its slowest pace in 22 years - folks who depend on a growing community now can at least look forward to some crop growth, too.
The large majority of Compton's rural property isn't even in the path of Lawrence's expansion for the foreseeable future, leaving the builder, developer, property manager and self-described "city farmer" talking like many of his agricultural colleagues.
"Trust me: farmers have struggled forever," said Compton, who grew up in Wellington and whose grandfather and uncle led farming operations. "I'm not sure anyone's making money farming. I know I haven't had an opportunity (yet) to sell my crops at those (record) prices."
Mike Flory, a farmer who also has worked as a Realtor for the past 35 years in the Lawrence area, said that record commodity prices needed to be considered in context. While high prices at the elevator certainly are a "bright spot" for farmers, ever-escalating costs for fuel, fertilizer and other inputs are tempering enthusiasm.
Then again, folks who purchased rural property purely for development purposes potentially could defray some of their purchase prices and other expenses by cashing in on $12 wheat, $14 beans and $5 corn.
"It does help with the carrying costs," Flory said.
Double-cropping ahead
Matthew Vajnar, grain merchandiser for Ottawa Cooperative Association, which has grain elevators in Lawrence and throughout the area, said he would expect many farmers to work especially hard this year to take advantage of the run-up in prices, by double-cropping fields with already-planted wheat, followed by hastily planted beans.
Even by accepting a decrease in bean yields, he said, farmers who successfully negotiate weather conditions, planting schedules and other factors could expect to add to their profits.
"Getting 20 to 25 (bushels) on double-crop beans, if the price is $7 or $8, probably isn't worth it," Vajnar said. "If the price is $13, then it would be profitable.
"They'll want to do it, at these prices. There's no doubt about it."
Bill Wood, agriculture agent for Kansas State Research and Extension in Douglas County, acknowledged that market conditions like this don't come along very often, especially when it comes to having all three of the county's main crops hitting or approaching record highs simultaneously.
But the rising grain market - just like with land development - does come with a price, depending on one's outlook. Property valuations are increasing for rural properties, and farmers renting such land already are facing higher costs from their landlords.
"It's a little scary," Wood said. "It drives rent up. The landlord's going to say, 'You're making more, you need to give me more' - which is OK, but will those (grain) prices stay up there? They've never stayed up before.
"And most landlords won't say: 'Oh, corn went down a dollar; I'm going to lower your rent.' "
The same holds true for inputs, Wood said: Nitrogen fertilizer is selling for $500 a ton these days, up 30 percent from a year ago; phosphate fertilizer now goes for $758 a ton, more than double the $321 charged in 2007.
It's no wonder then, Wood said, that the idea of buying rural land for farming is pretty much history these days in Douglas County.
"What it's selling for now, you can't buy a pasture and put cattle on it and make money," he said. "The speculation of someday selling it for housing still drives the market around here."
Copyright 2018 The Lawrence Journal-World. All rights reserved. This material may not be published, broadcast, rewritten or redistributed. We strive to uphold our values for every story published.