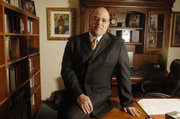 For the Rev. Delmar White, coming home meant coming full circle.
All the way back around to the place he used to hang out with neighborhood children, where his best friend held the attention of hundreds every week and where he came to say farewell to his mother.
Full circle to Lawrence. Full circle to Ninth Street Missionary Baptist Church.
On Sunday, White will be installed as the leader of Ninth Street in a ceremony expected to draw such a crowd that it's being held at Plymouth Congregational, 925 Vt., instead of Ninth Street's 1864 building at 847 Ohio.
White spent more than seven years as an associate minister at First Regular Missionary Baptist Church in Lawrence before being called to St. James Baptist in Emporia. From there, it was off to Antioch Missionary Baptist in Topeka and then to his most recent stop, Paseo Baptist in Kansas City, Mo. After all of his travels, it was a hard decision for White, 43, to return home after nearly 20 years away.
"I pondered it, talked about it with my wife, and just really wrestled, wrestled with the idea of coming home and what that would be like," White says. "If I had apprehension, it was, 'I'm going home, how will I be viewed? Will I still be viewed as the little kid, you know, that everybody knows? Or at least that some of those older families know? And how would I be received coming home?' So, I was like, 'OK, you won't know until you go.'"
And when he first appeared behind the Ninth Street pulpit in January?
"Very, very warm reception," White says. "I was pleasantly surprised, not only by the church, I didn't have any doubt about the church ... but the community has really, really opened their arms to us as well.
"Whatever fears I had, have been alleviated."
Going home, times two
And whatever fears the church members had about going without a pastor, also immediately washed away as well, says Cynthia Eubanks, the church's ministry coordinator.
"We are ecstatic, we are exuberant," Eubanks says of White's installation. "Everyone is so happy that we do have a full-time pastor. There was a lot of anxiety, a lot of people very concerned once Pastor Brown left."
Pastor Brown is the Rev. Rene Brown, leader of Ninth Street for more than 12 years, and best friend and cousin by marriage of White. Brown left Ninth Street in spring 2007 to head back to his home state of Louisiana and head a church in Baton Rouge.
"It's kind of a scary time when a congregation goes through a period without a head shepherd, without their leader. However, we've been so very fortunate, our head deacon, deacon Alex Jackson, stepped in and just handled everything beautifully," Eubanks says. "When the decision was made to call Pastor White, the majority of the people in our congregation knew Pastor White because he's from this area, so it was a joyful time. We're excited because he's excited, he's coming back home, and we kind of feel as though we have a part of Lawrence, a part of us that is just returning to us, even though he never pastored at Ninth Street."
Though he never did lead the services at Ninth Street, White's history with the church runs deep. As a very young boy, he and other children were ushered into a "Sunbeams" program at the church by a neighborhood matron. As a young man, he sometimes attended church at Ninth Street with friends from West Junior High School - the children of the Rev. Leo Barbee Jr., who was Ninth Street's pastor at the time and is now at Victory Bible Church. His mother's funeral took place at Ninth Street. His good friend Brown, whose wife is the cousin of White's wife, Carmen, began pastoring at Ninth Street.
"Pastor Brown, he and I are best friends, so for the 13 years he was here, 10 of those, I was in Topeka at the Antioch Baptist Church, so our churches fellowshipped together," White says. "We did church picnics together, softball games. Not only growing up in the city, but also as an adult, fellowshipping with the church often. So this really is like a reunion for me."
Building on success
It's more like a reunion and an extension of the work White has done thus far as a man of God.
In Topeka, White and Antioch Missionary Baptist developed the Antioch Family Life Center in the old Highland Park Elementary School. The center was conceived as what White calls "one-stop shopping" for community services - a place where those in need could get help from a drug and alcohol outreach program, daycare, community reintegration for women paroled into the Topeka community and more. In Lawrence, he is able to continue that work as part of the Ninth Street Missionary Outreach Center, established under Brown's tenure.
"It's not like I'm riding in on the white horse, but to be able to say I just want to build on the good foundation that is already laid and take the church to the next level," White says. "I've already met with the city manager here and have an appointment to meet with the mayor as well as the Chamber of Commerce to talk about what are the needs that are in the community and how can we develop programming around that to really use this facility as a community service.
"What I believe God has really called me home for is to develop the planning and programming for the Outreach Center."
Deacon Jackson, who led the search committee that placed White, also believes God has sent White to Ninth Street.
"We're definitely elated that we have who God has for that church," Jackson says. "That was the most important thing - to get what God wanted for the church."
White says he also would really like to work with other churches in the community and with the city police department as a possible chaplain to make Lawrence, his hometown yet again, a better place.
"It's going to be work and labor as we partner as pastor and people and do it together, just build on the foundation that they've already set, watch it grow," White says. "Economy's bad, the war is lingering, people are looking for some positive influence in their lives."
Copyright 2018 The Lawrence Journal-World. All rights reserved. This material may not be published, broadcast, rewritten or redistributed. We strive to uphold our values for every story published.