Spodcasters
Dishin' again with Rece and Bilas
For the second year in a row, ESPN Game Day host Rece Davis and analyst Jay Bilas took time to catch up with the Spodcasters on the eve of their live broadcast from Allen Fieldhouse. In individual interviews, the two talk about the Jayhawks, what they love about Fieldhouse, their show and plenty more.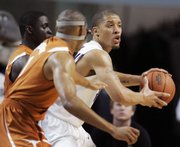 On the street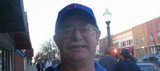 It'll be no contest; it's payback time.
ESPN's Jay Bilas, Hubert Davis, Rece Davis and Digger Phelps sat in director's chairs Friday afternoon in the southeast corner of Allen Fieldhouse, filming a promo for today's morning and evening GameDay telecasts.
Watching the proceedings while stretching and shooting baskets at the other end of the court were Kansas University's basketball players and coaches, their eyes wide open to the reason the cable TV giants are in town.
That, of course, would be for KU versus K-State Part Deux - an 8 p.m. rematch of the Bill Walker/Michael Beasley-led 84-75 victory over the Jayhawks on Jan. 30 at Bramlage Coliseum.
"Hopefully it will go down as one of the best games in the history of Kansas," KU senior guard Russell Robinson said.
"I think it'll be of that magnitude."
A quick glance at the polls and records might make casual observers wonder what all the pre-game hype is about.
KU enters with a 25-3 record, 10-3 in the Big 12 and No. 6 national ranking. Kansas State, loser of three straight games, is unrated, 18-9 overall and 8-5 in the league.
Beyond the numbers, KSU boasts the best player in the country in Michael Beasley and also one of the top 1-2 scoring tandems in Beasley and Bill Walker, who scored 25 and 22 respectively in the Wildcats' win in Manhattan - KSU's first victory over KU on its home court in 25 years.
"I was stunned more than anything. Their crowd was amazing," KU's Robinson said. "We have them at our house now. I think our crowd will be even better."
The fans - everybody is hoping in a good-natured way - may decide to razz Beasley tonight.
The 6-foot-10, 235-pounder, who averages 26.2 points and 12.6 boards - guaranteed a KSU victory in the first meeting in Manhattan and promises more of the same tonight.
"I think it makes them mad. I think it makes them work a little bit harder, so it makes me work a little harder," Beasley said of his pre-game boasts. "It makes us better. I'm not going to sit here and tell you I'm scared of Kansas. I think my team is prepared to play anybody in the country. They're a good team. Bring 'em on."
Beasley - who ESPN's Phelps predicted would be the top pick in the NBA Draft - is enthused about playing on such a big stage tonight.
"I love it. The whole world will be watching my team perform to the best of our ability," Beasley said.
The Jayhawks, as they did before the game in Manhattan, refuse to engage in a war of words with Beasley.
"He's just a great player, period. I don't think there's anybody as good as him in the country at this time," KU senior Sasha Kaun said. "It's kind of fun to go up against somebody like that and see where you stand."
KU coach Self won't say how he plans to combat Beasley. Nebraska (box and one) and Texas (zone) decided to abandon their man-to-man defenses against Beasley, who can go both inside and out. He had 17 versus NU in Lincoln and 30 at home against Texas in a pair of losses.
"I've seen some teams play a box-and-one or whatever and he gets 30, and I've seen some teams play them primarily man and he gets 44," said Self, who double- and triple-teamed Beasley at times in Manhattan.
While not discounting the possibility of playing some zone - KU's one zone possession at KSU resulted in a three-point make - Self reminds, "We're not a zone team.
"As many fans that have written me letters saying to play zone or whatever, we're not a zone team. Will we play some zone? Yeah, and if we do, we're still not a zone team. We just have to do a better job of what we do. Even if you play zone, there's still a guy with the ball in front of you that you have to keep in front. There's a lot of the same principles playing zone."
Like Beasley, future first-round NBA draft pick Walker enters the game in a confident frame of mind.
"It's all in fun," he said of his predicting a KSU sweep of KU. "If you are not that confident in yourself to make claims like that, then why step on the court? You ask me the question, what am I supposed to say. I'm confident in my team that we're going to pull it off."
He realizes KU's fans might try to rattle the Wildcats.
"It's a crazy atmosphere. It's so loud in there," said Walker. "You can't even hear what you are thinking about. That's probably going to be the toughest place we play in all year. They are not going to take us lightly. It will be a tough competitive game."
The Wildcats are 2-4 in true road games this year - all Big 12 contests - and 2-3 on neutral courts. Lack of success outside of Bramlage has some wondering if the 'Cats, despite their lofty league standing, still have some work to do before wrapping up an NCAA bid.
"We're still in third (in Big 12), but we've missed some opportunities to really help our record and move up and solidify our spot," senior guard Clent Stewart said. "I think we'll be all right. We'd like to get a win down there and have two more games and finish strong."
Stewart said a victory would assure the 'Cats a spot in the NCAAs.
"No doubt. They haven't lost there this year," he said of the Jayhawks. "They are 18-0 at home, so for us it's an opportunity to go out and showcase ourselves."
Copyright 2018 The Lawrence Journal-World. All rights reserved. This material may not be published, broadcast, rewritten or redistributed. We strive to uphold our values for every story published.