On the street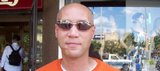 I would say the school district should be responsible. I think the resource officers are an extension of the school staff. It's something that the school's requesting and the police resources are stretched pretty thin, so I think the school district should pay.
It appears things won't change much next year for the school resource officers and crossing guards the city provides.
"The city is committed to having those school resource officers there. I think it's an incredibly good program," City Commissioner Rob Chestnut said.
Last year, city officials had mentioned asking the school district to split the nearly $700,000 it costs to fund one police officer at each of the city's two high schools and four junior high schools - and 13 crossing guards at elementary schools.
"I know they asked us to see if we have funds in our budget, and we don't have funds in our budget," school board member Craig Grant said.
The officers, who are police officers, handle law enforcement at the schools, work with administrators and staff, and even teach classes. The program began in Kansas communities several years ago with federal grant funding, and in Lawrence the city budget absorbed it.
"They provide a good example in the schools and a positive image for police," Chestnut said.
Continued funding from the city may come with a slight tradeoff. The proposed 2009 city budget follows last year's recommendation to fund three of the school resource officers with revenue from a special alcohol tax fund, even though a committee had recommended using that money to support mental health services in schools.
Three remaining officers would be paid from the city's general fund.
School officials haven't determined how to fund mental health services, including the WRAP program, which places Bert Nash Community Mental Health Center clinical social workers in schools.
Grant said local governments are all experiencing tight budgets, and he was pleased the city would continue to provide the crossing guards and school resource officers.
"They saw this as something that was important enough to continue in their budget, so I'm very happy of that," he said.
Copyright 2018 The Lawrence Journal-World. All rights reserved. This material may not be published, broadcast, rewritten or redistributed. We strive to uphold our values for every story published.