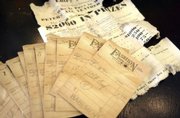 Pittsburg — If 'X' marks the spot of buried treasure, Sprouls Construction found the map to some history recently.
When digging between Fifth and Sixth streets on Broadway, crews uncovered a spiraling staircase leading down to the basement near Little's Inc.
"I certainly didn't know it was down there," said Patrick O'Bryan, Little's owner. "I thought it was pretty neat to have some history there that nobody knew about.
But the staircase was only part of the find. When down in the void in the area, workers also found some old vases and papers dating back to the 1930s
"There were a few vases down there, but the more colorful ones were broken," said Doug Sprouls, owner of Sprouls Construction. "There was one, but I don't think it had anything in it."
Also down there were bills for Fashion Shoe Co., a business that occupied downtown Pittsburg in the 1930s. Melissa Cedeño, owner of Little Shop of Flowers, said she leapt at the chance to keep the pot and the papers when workers asked if she would like them.
Among the papers was a 1932 contest form offering a $2,000 prize for anyone who could come up with the best 25-word answer for why it pays to wear Pete's Shoes, a St. Louis store.
"It has the rules and everything, but it's pretty torn up," Cedeño said.
But the contest form wasn't the only piece of history in the stack of papers. Also included were tickets from when people were charged for shoes, many of them from Aug. 5, 1932.
"I don't know if they were having a sale or what," Cedeño said. "Judging by all of the bills that were in there, they were pretty busy that day."
The bills also offer a glimpse into shoe prices for the day. Sandals were $1, while slippers were slightly more, at about $1.50. Black oxford shoes cost $2.50 and shoe polish was 20 cents. As for the pot, Cedeño described it as pottery that hadn't been glazed.
"It's just very heavy material," Cedeño said. "There's no date or nothing to indicate who made it, where or when."
Sprouls said it was the first find of this kind in Pittsburg in his several months on the project, other than some cast-iron pieces. He did say that it might not be his last.
"There are some already blocked-in openings near the Stilwell, but we're also anticipating having a few voids there," Sprouls said. "You really just never know what you're going to find."
Sprouls said when he did Phase I of Joplin's streetscape project he hadn't found anything like this.
"We found a few window wells and a large basement opened," Sprouls said. "We had to fill in the void, but we didn't find anything."
He said he wouldn't mind finding more pieces on the project.
"I'm kind of a pack rat, and I don't like to throw anything away," Sprouls said. "I'll give it to somebody. So far, that's the only real thing we've come across. It's a topic of discussion.
"We're not much into archaeology," Sprouls said. "But it's always nice to find old things, to find history."
Copyright 2018 The Associated Press. All rights reserved. This material may not be published, broadcast, rewritten or redistributed. We strive to uphold our values for every story published.