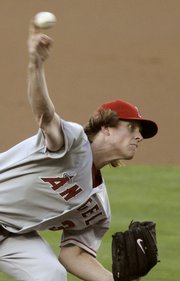 Dodgers 1, Angels 0
Los Angeles - The Dodgers became the fifth team in modern major-league history to win a game in which they didn't get a hit, defeating the Angels.
The Angels' Jered Weaver pitched six hitless innings before he was lifted for a pinch-hitter, then Jose Arredondo pitched the next two innings.
Since the Dodgers didn't have to bat in the ninth, the game doesn't qualify as a no-hitter. It was only the fifth such game since 1900, according to the Elias Sports Bureau.
Yankees 3, Mets 2
New York - Andy Pettitte outpitched Johan Santana for his sixth straight win, leading the New York Yankees past the New York Mets at rainy Shea Stadium.
Robinson Cano delivered a key RBI single off Santana, who has received little support from his teammates while dropping four consecutive decisions for the second time in his career.
Pettitte (9-5) allowed only solo homers to Ramon Castro and David Wright in six neat innings, winning his fourth start in a row.
Tigers 7, Rockies 6
Detroit - Miguel Cabrera hit a two-run double in the bottom of the ninth, and Detroit overcame Todd Jones' blown save to beat Colorado. With their fourth straight victory and 14th in 17 games, the Tigers improved to .500 for the first time this season.
The Rockies used three consecutive two-out hits to claw back from a three-run deficit in the top of the ninth. But closer Brian Fuentes gave up a single, a walk and Cabrera's double to blow his fourth save of the year.
White Sox 6, Cubs 5
Chicago - Carlos Quentin hit a tiebreaking homer leading off the bottom of the seventh, closer Bobby Jenks escaped a ninth-inning jam, and the White Sox made it two straight over the Cubs.
Astros 11, Red Sox 10
Houston - Lance Berkman atoned for three strikeouts with a two-run double in the eighth inning to lift Houston.
Orioles 9, Nationals 1
Baltimore - Luke Scott and Ramon Hernandez homered, Adam Jones matched his career high with four hits, and Baltimore cruised past Washington in a game interrupted by rain for 63 minutes.
Brewers 5, Twins 1
Minneapolis - Manny Parra allowed two hits in seven innings to win his sixth straight start, and Milwaukee beat Minnesota to end the Twins' 10-game winning streak.
Reds 5, Indians 0
Cleveland - Johnny Cueto won for the first time in four starts for Cincinnati, combining with four Reds relievers to shut out Cleveland. Cueto (6-8) constantly worked out of trouble to win for the first time since June 6 at Florida.
Pirates 4, Rays 3, 13 inn.
Pittsburgh - Jason Bay homered with two outs in the 13th inning to send Pittsburgh past Tampa Bay. Bay's 16th home run of the season came off Jason Hammel (3-3), who was in his second inning of work.
Giants 1, Athletics 0
Oakland, Calif. - Tim Lincecum outpitched Justin Duchscherer in a matchup between two likely All-Stars, Randy Winn drove in the only run of the game, and the Giants snapped a seven-game losing streak to the Athletics.
Blue Jays 9, Braves 5
Toronto - Vernon Wells homered and drove in three runs to help Toronto beat Atlanta. Wells finished with three hits, Rod Barajas hit a solo homer, and Joe Inglett had two RBIs for Toronto, which got a solid effort from John Parrish in his first start since 2004.
Phillies 8, Rangers 6
Arlington, Texas - Chase Utley and Ryan Howard hit 400-foot homers in the third inning.
Mariners 4, Padres 2
San Diego - Carlos Silva won for the first time in 13 starts spanning nearly 21â2 months, and Seattle beat former teammate Cha Seung Baek and San Diego.
Diamondbacks 6, Marlins 2
Miami - Brandon Webb returned to his All-Star form, Chris Young had three RBIs, and Arizona beat Florida.
Copyright 2018 The Lawrence Journal-World. All rights reserved. This material may not be published, broadcast, rewritten or redistributed. We strive to uphold our values for every story published.