Photo Gallery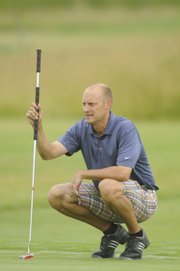 KGA Public Links Championship
Everybody was waiting and expecting a lower score at the top of the leaderboard on the first day of the Kansas Golf Association Public Links Championship.
But by day's end, a 67 - posted by three golfers - was the best round carded on Saturday at Eagle Bend Golf Course.
"This course, you can make some good scores here," said Conrad Roberts, who didn't think 67 would be leading after Day 1. "Last year was a shootout, and this year will be no different. I don't think anyone is going to run away with the tournament."
Roberts was the lone leader briefly, before golfers Ryan Deutsch and Tyler Trout each turned in a 5-under 67 in the foursome following Roberts, the 2007 KGA Four-Ball champion.
"My game has turned around a little bit since this year's Four-Ball," Roberts said. "I've been working on a couple of things and figured a couple of things out. And I ended up playing pretty solid, hitting a lot of fairways, and I didn't miss any greens. When you do that, the game tends to be easier."
The Kansas University graduate was the highlight of his foursome, which included two-time KGA Mid-Amateur champ Jon Troutman and 2005 Public Links champ Kyle Smell, who also won the 2007 Kansas Junior Amateur Championship.
Smell and Troutman also were bested by the fourth golfer of the group, 2006 KGA Junior Team champion Matt Lazzo, who shot a 71.
"Greg (Wyatt) caddied for me, and I told him at the beginning of the round, 'You know, if I can beat these guys today I'll be up there with the leaders,'" Roberts said. "Those are the guys that are going to contend for this championship. So it was good being in a group like that."
Roberts will have to battle with two current KGA champions primed for a Sunday surge.
Situated just one-stroke back of Roberts is reigning Four-Ball champion Cameron Bishop, along with Baldwin resident and Lawrence native Mike Grosdidier, defending champion of the KGA Senior Series Championship.
Bishop and Roberts will joined by Trout and Deutsch in the final foursome to tee off at 11:20 a.m. today.
Defending Public Links champion Jon Platz, who shot even-par for the day, suffered an unlucky break before even hitting the course.
The unfortunate break stretched across the clubface of his driver.
"My go-to driver, I just cracked it. I've had it happen five or six times, but not 20 minutes before a tournament," Platz said. "Actually, it's kind of weird. That was a replacement of the exact same driver from last year that broke two days before this tournament."
Platz said he didn't have much trouble adjusting to a new driver, saying it was his putter that landed him back in the middle of the field.
"That's the story for me - my putter," Platz said. "I wish it would have cracked rather than my driver."
Copyright 2018 The Lawrence Journal-World. All rights reserved. This material may not be published, broadcast, rewritten or redistributed. We strive to uphold our values for every story published.