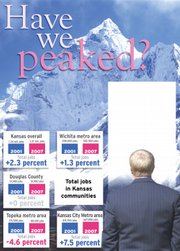 Lawrence was on a roll.
The year was 2000, and economic development leaders were toasting not just a good year, but a good decade.
The shine had not yet worn off the $35 million Sauer-Sundstrand plant that had sprung from the East Hills Business Park landscape a year earlier. The company, now known as Sauer-Danfoss, was in the process of adding more than 100 new jobs to the Lawrence economy.
Gaze about a block to the east, and the dirt was still freshly turned on a 60,000-square-foot expansion of NCS Pearson. A block to the west, Prosoco, a manufacturer of cleaning products had moved its corporate headquarters from Kansas City. Across the street, Amarr Garage Door Group had doubled the size of it manufacturing plant in 1995 and had more expansions in the works.
Venerable Lawrence companies also were moving up. The likes of Allen Press, Packer Plastics and Reuter Organ had all undertaken expansions or were in the process of doing so.
It had been the Nifty Nineties.
Economic development leaders felt like they had found their way for Y2K. In 1997, city and county leaders even went so far as to set the goal of adding 20,000 jobs in Douglas County by 2020. The goal is an official part of the community's comprehensive plan, Horizon 2020.
Leaders were optimistic they had a good head start. The biggest fish yet was on the hook: A $45 million, 400,000-square-foot warehouse with 300 jobs had committed to build in Lawrence. The company's name was American Eagle.
In short, confidence filled Lawrence business circles like crimson and blue fills the Fieldhouse.
And today?
Well, crimson and blue is still in vogue.
"It is like short-attention span theater around here," Douglas County Commissioner Charles Jones said, citing his frustrations with leadership at the Lawrence Chamber of Commerce and a host of economic development initiatives that have been started but not finished. "Obviously, something has changed."
In search of 20,000
The numbers certainly have changed. In 2000, the goal of adding 20,000 new jobs by 2020 seemed like a slam dunk. From 1997 through 2000, the county added an average of 1,300 jobs per year. It was on pace to add nearly 30,000 jobs by 2020.
Now, the community is behind pace. How far behind is debatable. It depends on how you look at numbers complied by the Kansas Department of Labor.
But what isn't debated is that the 300 jobs from an American Eagle Distribution Center aren't in the numbers. That "big fish" flipped off the hook and swam down to Ottawa after major public opposition formed about wages the company proposed to pay and the amount of tax abatement it sought.
Then - following Sept. 11 - the city that once took quiet reassurance that its economy was fairly well insulated from the ups and downs of the national economy, found its layer of protection had worn mighty thin.
E&E; Display Group closed its plant that once employed more than 300. Honeywell moved its Lawrence operations to Johnson County, taking nearly 190 jobs. Davol closed its longtime medical manufacturing plant in 2002, eliminating 130 jobs. Farmland Industries went bankrupt and shuttered its Lawrence fertilizer plant, which employed 100. Nearby corporate neighbor Sprint also closed its Lawrence call center, eliminating 500 jobs.
The result is that Douglas County no longer is on pace to add 20,000 new jobs by 2020. From 1997 through 2007, the county has added 5,900 jobs. At that pace, the community would fall about 30 percent - or about 6,000 jobs - short of the 20,000 goal.
But some community leaders say the news is even worse. That's because from 2001 to 2007, the county's job growth rate has averaged out to zero percent. Despite a slow national economy, that average still is below the statewide job growth average, and the averages for the Kansas City and Wichita metro areas.
"It is like the game is played at a different level these days, and we're just not willing to compete," Douglas County Commissioner Bob Johnson said.
Seeking strategies
Deconstructing the downturn could be an almost full-time job. Opinions vary about what wrong turns the community took or what direction it needs to go now.
City Commissioner Boog Highberger, for example, said the city may have the wrong focus. Instead of trying to catch whales with a rod and reel, it ought to spend more time catching goldfish with a net. Highberger envisions putting out a request for proposals to existing Lawrence businesses. Ask them how they could add a handful of jobs to their companies, and then give city grants to the most worthy.
City Commissioner Rob Chestnut repeats a frequent concern expressed by economic development professionals: The community doesn't have enough industrial sites to show potential major employers.
"Having industrial development sites along I-70 is going to be absolutely critical to this community," Chestnut said. "It is a major transportation corridor that we have to take better advantage of."
Plenty of blame
But when it comes to bigger-picture reasons for why job growth numbers have stalled, three general themes emerge: lack of leadership; an abundance of debate; and a sense of complacency.
Jones has hammered on the leadership issue, and does not hide his disappointment with the Lawrence Chamber of Commerce. The city and county contract with the chamber to provide economic development marketing services.
He points to more than five years of talk about industrial development near the Lawrence Municipal Airport without results. He's frustrated the community hasn't figured out how to convert the former Farmland Industries plant into a new industrial area, despite five years of talk. An 87-acre site near the East Hills Business Park has sat untouched for about 10 years. Creating a true incubator site for promising start-up companies has been talked about for the better part of a decade, too.
He said much of the blame lies with the chamber's "inability to focus and set priorities."
"Those who want to hide behind the anti-business part of the community are just deceiving themselves," Jones said. "It is really the business community that has failed as much as anybody to articulate a vision and focus on getting something done."
Mike McGrew, chairman of the chamber's economic development committee, did not take major exception to Jones' comments. But he said changes probably needed to happen in the political arena as well.
McGrew thinks the city's reputation with site selection companies took a hit with the American Eagle controversy. That deal fell apart at the City Commission level. He also said the city-approved living wage requirement for companies receiving tax abatements - although well-intentioned - may be sending a poor message to potential employers.
But a bigger issue is the tendency for projects to become bogged down because there is less than unanimous support for an idea, McGrew said.
"We have a great history of debate and analysis, but our follow through and willingness to go ahead on a 60-40 deal has been lacking," McGrew said. "A 60-40 vote in a federal election is a landslide. In Lawrence, it seems like it is 40 percent short of what we need to move forward."
Johnson, who believes there's plenty of blame to go around, said the community had become complacent because of a robust real estate market. The annual increases in home values led to new revenue that negated the need to raise taxes.
That's not the case today. When the most recent housing bubble burst nationally, Lawrence's market lost considerable air too.
"What's happening to us now is the real world," Johnson said. "What's facing us now, has been facing lots of communities for years.
"The good news is I think we're at least now stepping up and admitting what is going on."
Copyright 2018 The Lawrence Journal-World. All rights reserved. This material may not be published, broadcast, rewritten or redistributed. We strive to uphold our values for every story published.