Photo Gallery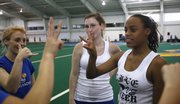 KU Spirit Camp
Through the vibrations of a drum, six cheerleaders from the Kansas School for the Deaf commanded people's attention at Kansas University's Spirit Camp.
"We can do everything except hear," said Marie Qualls, 21, the head coach of the KSD team. Qualls, a 2005 graduate from the state school, decided to bring her team to KU's camp for the first time this year.
About 175 young people attended this year's camp. KU cheerleaders lead the gathering, which focuses on stunts, jumps, team building, dance and mascot training.
The experience working with KU cheerleaders has enriched the KSD team in numerous ways, Qualls said.
"They are more outgoing now," she said. "As a cheerleader you have to be so much more outgoing, and (they are) developing regular techniques and skills."
A key component of their cheer routines is a drum.
"Deaf people can't speak very clearly, and they can't hear the rhythm either; with the drum everyone can feel it, so everyone will know what the rhythm is," Qualls said.
The audience and cheerleaders alike love the drum, she said.
"I've enjoyed it," said Brooke Harper, 14, an Olathe freshman. "I've learned a lot. What an experience."
The team memorizes the words to songs and follows an interpreter and the KU cheerleaders.
Learning new cheers and learning how to better communicate with others was a beneficial aspect, too.
KU cheerleader, Sammi Volker, 20, worked with the team throughout the camp, which began Thursday and ends today. At first Volker was nervous to work with the girls from KSD because she doesn't know sign language and has never worked with anyone who is deaf, she said.
"So I was nervous about it, but it's been a really good learning experience, and they're really positive," she said. "It's just the same as working with any other team."
Kylei Brooks, 15, an Olathe sophomore on the KSD team, said she and her teammates could use the camp experience back at school and to help some of them reach their goal of cheering in college.
"For me, it's the cooperation and learning how to communicate with everyone else, and the movement," Brooks said. "I just feel like we're in a big group. It's wonderful. I feel great."
Copyright 2018 The Lawrence Journal-World. All rights reserved. This material may not be published, broadcast, rewritten or redistributed. We strive to uphold our values for every story published.