Audio Slideshow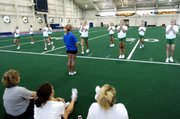 Cheerleading Clinic
Junior high and high school cheerleaders pick up new skills from KU cheerleaders during a clinic at Anshutz Sports Pavilion.
Oops.
Hannah Fair kicked Kansas University cheerleader Chris Landrum in the face, as members of the Perry-Lecompton cheer squad extended her into the air. She forgot to keep her leg in.
But Landrum, a senior from Independence, kept on cheering.
"It's looking good," he said. "I'm impressed."
Eight cheerleaders from Perry-Lecompton High School have joined 167 other junior high and high school students from across Kansas for camp at KU that runs through today.
They watched as members of KU's cheer squad performed stunts.
Then the KU students helped the teenagers imitate some of their moves.
But for the Perry-Lecompton squad, it's extra special.
In the past, they've had a cheerleader come to their school during the summer to work with them. This year they have a new coach, and she took them on the road.
And the girls said they're having fun, but taking their jobs seriously. Out of the 15 schools that came to the camp, the Perry-Lecompton cheerleaders were the only squad to put together a routine to show off when camp started.
"We were very nervous," said 16-year-old Sydney Allen, of Lecompton.
The girls said they knew the camp would make them better cheerleaders. But it doesn't come easy.
As the girls practiced the "liberty" stunt, incoming freshman Abbey Bays was struggling to stay balanced on the hands of the other cheerleaders.
Several times she fell.
Landrum made her balance her heel on his shoe for several minutes.
Then, after a few more attempts, her liberty was a success.
"They're really good mentors for these girls," said Perry-Lecompton cheer sponsor Jessie Hobbs.
The camp is also a time for the girls to bond. They are staying in the KU dorms during the three days they're in Lawrence. They tell stories of stuffing their faces with Skittles and getting to know one another outside their element.
They get up early to practice every Tuesday and Thursday morning during the summer. With the Perry-Lecompton bridge construction, they rotate practicing at the school in Perry and at a squad member's house in Lecompton.
The team is working hard so it can win its first exhibition after the school year starts.
And, it's here where they're able to get a sneak peek at some of their competition.
"If they do something I can't do, it makes me want to improve," said squad member Angelina Castaldi, of Lecompton.
"It is becoming more of a sport," Hobbs said. "It's definitely a lot more athletic than it used to be. Not so much foo-foo and fun."
Copyright 2018 The Lawrence Journal-World. All rights reserved. This material may not be published, broadcast, rewritten or redistributed. We strive to uphold our values for every story published.