Photo Gallery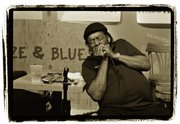 New Harmonies
Photos from the "New Harmonies" exhibit at Watkins Community Museum
Related document

"New Harmonies" calendar of events ( .PDF )
Nineteen concert road cases are rolled into the third floor of the Watkins Community Museum of History, 1047 Mass.
The hefty amount of touring gear gives the impression a legendary rock band like The Who is getting ready to set up and perform.
But the "who" in this instance is really a "what" - albeit a musical one.
Today Watkins will unveil "New Harmonies: Celebrating American Roots Music," a traveling exhibition from the Smithsonian Institution in Washington. Lawrence is one of six cities in Kansas to receive this collection.
"It basically examines the history and development of American music," says Jeannette Blackmar, Watkins' program consultant for "New Harmonies."
"What's really cool about this is it explores how people all over the world contributed to their cultural traditions borrowing from others. You have America's cultural soundtrack."
"New Harmonies" is part of Museum on Main Street, a collaboration between the Smithsonian Institution and the Federation of State Humanities Councils that brings national collections to small towns in rural America. Watkins gained this opportunity through a $2,000 grant from the Kansas Humanities Council.
The exhibit runs today through Aug. 10 in Lawrence.
"We are so excited to work with the Kansas Humanities Council to bring the story of American music to life in Lawrence," says Smithsonian publicist Lindsey Koren.
"Since 1994, the Museum on Main Street program has brought Smithsonian exhibitions to more than 700 small rural communities in 43 states. ... 'New Harmonies' takes visitors on a journey through the development of Americans' creative expression through music. The exhibition (traces) the ways rhythms from Africa, Europe and Native America merged and collided to create new sounds and new music."
Visitors will encounter eight kiosks dedicated to different styles of roots music that utilize photographs, illustrations, artifacts and sound clips.
"It's really neat in that it brings listening stations so patrons can have an interactive element with these different kiosks that explore the development of American music. That's the essence of this whole exhibit," Blackmar says.
River City connection
Despite spanning a vast array of styles and eras, "New Harmonies" doesn't feature any specific material involving musicians from Lawrence or neighboring areas in Kansas.
So the Watkins staff decided Lawrence patrons were entitled to something that mined the rich musical history of the city.
"Yes, it's a fabulous Smithsonian exhibit, but what we're really trying to do at Watkins Community Museum is to document the Lawrence music scene of past, present and future," Blackmar says.
Thus, she helped launch the companion exhibit: "River City Musical Arts."
Also housed on the third floor of the museum, the collection features such artifacts as erstwhile school band uniforms, musical props from bygone clubs and a Masonic pump organ that came to Lawrence in 1876. And there's a display that showcases the technological evolution of how people listen to music that includes vintage gear.
"I was really struggling to find a participatory element. 'I know you can stand at these kiosks and listen to music. Yeah, that's kind of cool, but what can people really contribute?,'" says Blackmar, who admits she wasn't exactly a "big local music expert" to begin with but she's "learned a lot."
She began by requesting all kinds of "music-related stuff" from the community: photographs of favorite bands and venues, posters, album covers, old instruments, sheet music, etc. (Those interested in contributing can drop off these nonreturnable items at the museum.)
Then Blackmar happened across a workshop by local artist Lora Jost at the Lawrence Arts Center. After brainstorming with Jost, the pair hatched a plan.
"If we get grant funding, Lora is going to create a permanent visual collage for the museum based on all this material contributed by the community," she says.
Blackmar is hoping the large blank canvas will be completely filled in with the community's thoughts and memorabilia about the city's music scene by Aug. 10.
"It's learning about American history through the arts," she says. "Obviously we have these local musicians, but also we have the visual arts through this collage. I think that's a really neat way to explore history."
Harmonious events
Other local programs are slated to coincide with the "New Harmonies" opening:
¢ At 4 p.m. today the band Bopaphonics will perform at the museum with a set that includes Langston Hughes' poetry set to music.
¢ At 5:30 p.m. old-timey act The Alferd Packer Memorial String Band brings its dulcimers, banjos and washboards to the venue.
¢ At 7 p.m. Dr. Steven Kite, a Fort Hayes State University professor of history, gives the presentation "From There to Here: Origins of Appalachian Folk Music."
Throughout June and July there will be more than a dozen events harmonizing with "New Harmonies" - from Native American flutemaking workshops to lectures on Bob Dylan. (A complete schedule can be found at www.ljworld.com.)
"The exhibition is an excellent fit with Lawrence," says Helen Krische, archivist/exhibits coordinator at Watkins.
"Music has a really long history here since the late 1850s - like having the longest continuous city band. The local music scene is just huge. I remember it when I was here in the '60s, and it was the same thing then with lots of local bands getting together and making good music."
Copyright 2018 The Lawrence Journal-World. All rights reserved. This material may not be published, broadcast, rewritten or redistributed. We strive to uphold our values for every story published.