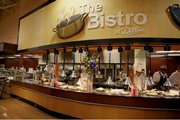 Dillons' newest store in Lawrence is about to get its freshest makeover.
Dillons, 4701 W. Sixth St., is in line for a 37,000-square-foot expansion beginning later this year, followed by a remodeling of the existing store at the site.
The project will add at least 75 employees to the 9-year-old store that already has 100 associates, said Sheila Lowrie, a spokeswoman for Hutchinson-based Dillon Stores, a division of Kroger Co.
No specific timeline has been set for completion of the project, Lowrie said, but the overhaul will include several new features. Among the most prominent will be addition of The Bistro, featuring chef-created entrees and an upscale deli.
A new seating area also will include a gas fireplace with leather furniture.
"Every inch of the store will be redesigned," Lowrie said.
The project comes as remodeling already is under way at another Dillons in town, at 1015 W. 23rd St.
The planned expansion and remodeling also arrives as Wal-Mart is preparing for construction of a new supercenter, to be located at the northwest corner of Sixth Street and Wakarusa Drive. The supercenter is slated to include a full grocery.
When expansion of the nearby Dillons, southeast of the intersection, is completed - sometime next year, Lowrie said - shoppers will have about 86,000 square feet of space to roam.
Along with The Bistro, new features will include:
¢ An All About You beauty section, with wider aisles, enhanced lighting and products that include fragrances and colognes.
¢ Three kiosks, up from the current one, for processing digital photos.
¢ An expanded salad bar, including organic offerings.
¢ Kitchenplace, a gourmet section featuring accessories, cookware, place settings and table linens.
Lowrie said that she didn't have cost estimates for the project, nor a specific timeline for completion. A site plan for the project is awaiting final approval at City Hall.
Dillon Stores, a Hutchinson-based division of Kroger Co., has four stores in Lawrence. The others are at 3000 W. Sixth St. and 1740 Mass., and Lowrie said there were no immediate plans for upgrades at those stores.
Copyright 2018 The Lawrence Journal-World. All rights reserved. This material may not be published, broadcast, rewritten or redistributed. We strive to uphold our values for every story published.