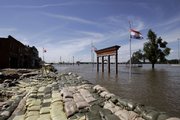 Winfield, Mo. — Crews laboring to strengthen fortifications along the swollen Mississippi tackled new dirt slides and seepages on a fragile earthen levee Wednesday as forecasters said more heavy rain could cause a second round of big crests.
As much as 8 inches of rain fell on parts of northern Missouri from Tuesday night into Wednesday, adding water to about four rivers that feed into the Mississippi, the National Weather Service said.
"They will be dumping in huge, unwelcome amounts into the Mississippi over the next few days," hydrologist and meteorologist Mark Fuchs said. He said the river city of Hannibal "could go up to its big crests again."
President Bush declared a major disaster area in 22 Missouri counties, including the St. Louis area.
Still more thunderstorms are forecast over the coming days upstream in Iowa, Minnesota and Illinois, Fuchs said.
That wasn't welcome news for Winfield, farther upstream, where flood fighters faced a new 100-foot dirt slide down the slope of the Pin Oak Levee on Wednesday and new sand boils - spots where water soaking beneath the levee percolated up through the sandy soil. They had just declared success in their patch of a 200-foot dirt slide that occurred Tuesday.
The porous, heavy soil making up the Pin Oak is like a sponge, and the U.S. Army Corps of Engineers' chief of dam safety, Travis Tutka, has said he can't guarantee the levee would hold.
Lincoln County authorities deemed the area extremely hazardous and ordered boaters out of the water, saying even slight wakes lapping against the levee could cause a catastrophic failure.
The 2.5-mile-long levee about 45 miles northwest of St. Louis is all that's protecting 100 houses, a city park, several businesses and 3,000 acres of agricultural land in east Winfield.
At Clarksville, northwest of St. Louis, a weakened sandbag wall protecting the city's historic downtown was reinforced and was holding ahead of Friday's predicted crest of 36.9 feet.
Copyright 2018 The Associated Press. All rights reserved. This material may not be published, broadcast, rewritten or redistributed. We strive to uphold our values for every story published.