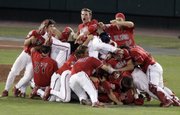 Omaha, Neb. — Fresno State was smashing in its final performance as college baseball's team of destiny, winning a championship that would have been impossible to predict.
With Steve Detwiler providing all the offense Justin Wilson needed, the Bulldogs captured their first national championship in a men's sport with a 6-1 victory over Georgia in Game 3 of the College World Series finals Wednesday night.
Detwiler homered twice and drove in all six runs, and Wilson allowed five hits in eight innings to cap Fresno State's wild ride.
Fresno State (47-31) was forecast to be a Top 25 team coming into the season, but the Bulldogs lost 12 of their first 20 games. They needed to win the Western Athletic Conference tournament just to make the NCAA field of 64.
The national title was the second in school history. Fresno State won the 1998 women's softball title.
Fresno State third baseman Tommy Mendonca won CWS most outstanding player. He hit four home runs and had 11 RBIs.
But in the finale, Detwiler was the star.
Playing with a torn ligament in his left thumb, he hit a two-run homer on Nathan Moreau's 3-2 pitch in the second inning that barely cleared the right-field fence.
There was no doubt about Detwiler's second blast, a high drive that landed three-quarters of the way up the stands in left field.
"It's mind over matter," Detwiler said of his thumb. "It's just a little pain. The pain is temporary. Pride is forever."
A year after Oregon State won its second consecutive CWS title with a surprising late-season run, Fresno State pulled off an even bigger surprise and became the seventh straight champion from west of the Mississippi River.
"It was pretty awesome," Wilson said as the party was still raging on the field. "I can't believe it out here."
Copyright 2018 The Associated Press. All rights reserved. This material may not be published, broadcast, rewritten or redistributed. We strive to uphold our values for every story published.