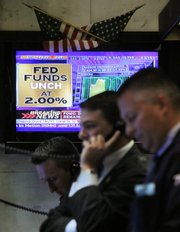 Washington — The Federal Reserve left a key short-term interest rate unchanged Wednesday, ending a nine-month campaign of rate cuts, as the central bank indicated that the economy is holding up better than it had forecast but that it is increasingly worried about high inflation.
The Fed's policymaking committee, concluding two days of meetings, decided against adjusting the federal funds rate at which banks lend to each other.
That follows seven rate cuts since September, which drove the rate to 2 percent.
The funds rate ultimately affects what it costs consumers to borrow money through a credit card, auto loan or mortgage, and what businesses pay to take on loans to expand. It is the main tool the Fed uses to either boost the economy or combat inflation.
The action was widely anticipated. The decision not to cut further is the clearest sign to date that soaring prices have supplanted the economic downturn as the biggest worry for Fed leaders.
"Although downside risks to growth remain, they appear to have diminished somewhat, and the upside risks to inflation and inflation expectations have increased," said the Federal Open Market Committee, the Fed's policymaking group, in its statement.
Meanwhile, the economy, while weak, is not as weak as many Fed leaders feared it would be by this time. And because interest rate cuts stimulate the economy with a lag, the spring rate cuts are only now starting to have an impact.
"Recent information indicates that overall economic activity continues to expand," the committee said, though it acknowledged that labor markets have continued softening and financial markets are under stress.
The Fed is in a difficult spot, simultaneously dealing with a weak economy, a financial crisis and high inflation driven by soaring global prices for oil and other commodities. Fed Chairman Ben S. Bernanke and his colleagues have undertaken the most aggressive campaign of interest rate cuts in the modern history of the Fed to try to prevent a deep and disastrous recession from taking hold.
Sure enough, the economy is in only a modest downturn, with economic growth still slightly positive and fewer jobs being shed than in past recessions. Prices, meanwhile have been rising rapidly.
Copyright 2018 The Lawrence Journal-World. All rights reserved. This material may not be published, broadcast, rewritten or redistributed. We strive to uphold our values for every story published.