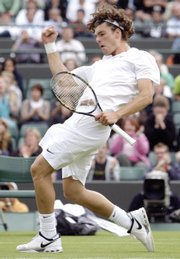 When watching the cream of the crop of the tennis world, why not have a little cream yourself? And strawberries. And maybe a pinch of sugar.
Each year, tennis fans from around the world indulge in a little gameday food that is about as far as one can get from the typical American mainstays of hot dogs and nachos. Instead, those folks visiting Wimbledon, which started Monday, queue up at the All England Club to eat more than 23 tons of fruit - more than 2 million berries - and about 1,820 gallons of cream, according to a count in 2005.
For vendors there, strawberries, cream and sugar equal game, set, match.
But it's not just the vendors who can enjoy the simple genius of the traditional summer dessert - folks across the pond can, too. With a little know-how, Americans watching the coverage, which begins at 6 a.m. on ESPN2 (Sunflower Broadband Channels 34 and 234) weekdays, can enjoy a taste of the treat themselves. And doesn't strawberries and cream for breakfast with a little tennis sound a whole lot better than nachos and drop shots?
The right stuff
Ripe strawberries are easy to come by in Lawrence at the moment - they're in stock at every grocery store and on sale at the Downtown Farmers' Market. No problem.
Sugar also is easy to find, but might not be necessary, depending on individual tastes and how ripe the strawberries are.
The cream, though, is the key to making perfectly British strawberries and cream. And we're not talking about whipped cream, Cool Whip or any other Americanized cream product.
According to Henry Way, a Brit earning his doctorate from Kansas University, the most popular cream to have in the traditional dish is double cream.
"The type I've had is pouring cream - it's liquid. It's still pretty thick. It would be kind of like the consistency of thick gravy ... but not obviously gravy. Gravy and strawberries - that wouldn't be (good)," he says. "It's more liquid than mayo. I've seen it done with the sort of real thick cream as well, definitely, but you can do it also with the thinner, near-liquid cream."
Brits, 929 Mass., carries the thick clotted cream, as well as a thinner version. Owner Sally Helm says there are also ways to ratchet up the dessert/breakfast if you want a bit more going on than fruit and cream.
"There's another thing you can add, too, to even kick it up a notch - meringue. Meringues, as in the hard crunchy type," Helm says. "You break them up and you mix them in with the cream and strawberries, and you kind of have what you call an Eton mess."
Companion for the berries
Another thing to kick it up a little is another Wimbledon tradition - orange squash. The drink, made by Robinsons, is so popular Helm had sold out of it last week.
But there's a few other drinks Way says are popular to have with your fruit bowl.
"The thing to drink with it is Pimm's - and lemonade is like what you have. And it's not like American lemonade, it's Pimm's, and it's mixed with kind of the equivalent of Sprite, you know, like clear, that's what our lemonade is like in Britain," Way says. "We would have Pimm's and strawberries and cream. If you're very wealthy, you could have champagne or whatever, but the typical drink is Pimm's. You chop up bits of apples and pear, just all fruits, really."
Scott Elwell, the head pro at First Serve, 5200 Clinton Parkway, remembers Pimm's well from his trip to Wimbledon a few years ago. Elwell says that all over the grounds of the All England Club, he saw Londoners drinking the concoctions, complete with bobbing fruit.
"It was an alcoholic drink mixed with a bunch of different fruits. You'd look over at their glasses and it would be filled to the top almost with fruits and there would be the drink mixed in there," he says. "Oh, yeah, we tried it, it was good. We got a bottle of it when we were over there."
Elwell says that though he did try the strawberries and cream, that was nearly the extent of his Wimbledon dining experience, because the food, like everything else there, was so expensive.
"For a meal for a person, it's probably, even for a lunch, it would probably be $35 or $40. That would be within the club, within the grounds," Elwell says. "We never ate there because it was pretty expensive."
Way says though that if you've got the money, British food is worth it. He knows most people think it's bland, heavy food, but he says that's a bit of rubbish.
"British food gets a really bad reputation, but I don't think it's justified because there's nothing nicer on a summer afternoon, sipping some mixed drinks and having strawberries and cream," Way says. "I think it's the nicest thing."
Copyright 2018 The Lawrence Journal-World. All rights reserved. This material may not be published, broadcast, rewritten or redistributed. We strive to uphold our values for every story published.