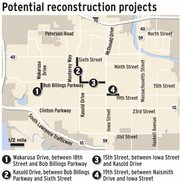 Forget the Final Four. Lawrence leaders are hoping residents become captivated by the First Four, a quartet of major city streets that leaders would promise to rebuild if voters approve a new sales tax.
City Manager David Corliss and his staff are proposing that portions of Bob Billings Parkway, Kasold Drive, 19th Street and Wakarusa Drive become the first streets reconstructed if voters approve a 0.30 sales tax increase in November.
"We talked to our street division and asked them which ones they're continually having to repair," said Chuck Soules, the city's director of public works, who helped develop the proposal.
City commissioners will begin debating the proposal at their 6:35 p.m. meeting today at City Hall. Commissioners were mixed on whether the plan struck the right balance.
"I think there will be some debate on that," said Mayor Mike Dever.
In addition to the four major street projects, the proposal also includes $5 million for a new stormwater pump station at Fifth and Maple streets in North Lawrence; $500,000 per year for 10 years to address residential street and sidewalk issues in older areas of town; and $350,000 to build the Burroughs Creek Rail Trail in east Lawrence.
The proposal also includes $500,000 per year for 10 years to purchase fire trucks. Dever said he wonders whether a sales tax is the best way to purchase those vehicles. Instead, he said the city may be better served by finding fire truck money in other parts of the city's budget and using the $500,000 worth of sales tax money to do more street and infrastructure maintenance.
"I really want to catch up on our backlog of projects," Dever said.
City Commissioner Mike Amyx, though, said he thought city staff members were on the right track with the proposal. He said securing a stable source of funding for fire equipment was important.
"The problem with our current system is it seems to be awful easy for us to put off the replacement of a piece of equipment for a while," Amyx said.
The 0.30 sales tax is expected to generate about $4 million to $4.5 million per year. The major road projects are each expected to cost between $2.7 million and $4.8 million per year.
City commissioners, however, have not officially placed the sales tax issue on the November ballot. They have talked for nearly three months about placing the 0.30 sales tax and a separate 0.20 sales tax to fund public transportation on the November ballot, but have not yet taken a vote to do so.
Copyright 2018 The Lawrence Journal-World. All rights reserved. This material may not be published, broadcast, rewritten or redistributed. We strive to uphold our values for every story published.