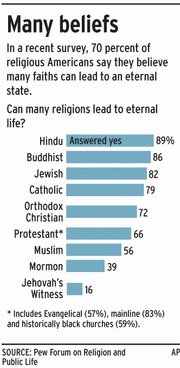 On the street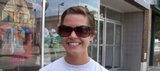 No. I don't go to church. I never really have been religious. I believe in God and was raised Catholic, but it's just never been a part of my day-to-day life.
America remains a nation of believers, but a new survey finds most Americans don't feel their religion is the only way to eternal life - even if their faith tradition teaches otherwise.
The findings, revealed Monday in a survey of 35,000 adults, can either be taken as a positive sign of growing religious tolerance, or disturbing evidence that Americans dismiss or don't know fundamental teachings of their own faiths.
Among the more startling numbers in the survey, conducted last year by the Pew Forum on Religion and Public Life: 57 percent of evangelical church attenders said they believe many religions can lead to eternal life, in conflict with traditional evangelical teaching.
In all, 70 percent of Americans with a religious affiliation shared that view, and 68 percent said there is more than one true way to interpret the teachings of their own religion.
"The survey shows religion in America is, indeed, 3,000 miles wide and only three inches deep," said D. Michael Lindsay, a Rice University sociologist of religion.
"There's a growing pluralistic impulse toward tolerance, and that is having theological consequences," he said.
By many measures, Americans are strongly religious: 92 percent believe in God, 74 percent believe in life after death and 63 percent say their respective scriptures are the word of God.
But deeper investigation found that more than one in four Roman Catholics, mainline Protestants and Orthodox Christians expressed some doubts about God's existence, as did six in 10 Jews.
Another finding almost defies explanation: 21 percent of self-identified atheists said they believe in God or a universal spirit, with 8 percent "absolutely certain" of it.
"Look, this shows the limits of a survey approach to religion," said Peter Berger, a theology and sociology professor at Boston University. "What do people really mean when they say that many religions lead to eternal life? It might mean they don't believe their particular truth at all. Others might be saying, 'We believe a truth but respect other people, and they are not necessarily going to hell.'"
Copyright 2018 The Associated Press. All rights reserved. This material may not be published, broadcast, rewritten or redistributed. We strive to uphold our values for every story published.