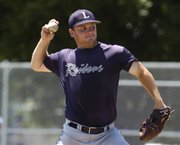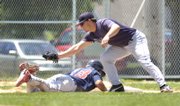 Ice Classic Scores
Seventh place
Blue Valley Jaguars 3, Arkansas City 2
Fifth place
Raiders 9, Dodge City 1
Semifinal
K.C. Bullets 11, Liberty, Mo. 2
Semifinal
Ozark, Mo. 3., K.C. Barnstormers 2
Championship
K.C. Bullets 3, Ozark, Mo. 2
Those weren't track spikes the Raiders were wearing Sunday afternoon. Lawrence's Legion baseball team was shod in its customary cleats.
But, boy, did the Raiders look like sprinters in the first inning of a 9-1 victory against Dodge City that gave them the consolation championship of the Al Ice Woodbat Classic.
The Raiders stole eight bases - four by leadoff hitter Matthew Abel - while sending 11 batters to the plate in a seven-run first inning that led to the eventual run-rule victory at Ice Field.
"We played our style of baseball in the last two games," Raiders coach Shaun Edmondson said. "We didn't in the first two games."
The Raiders bounced back from those two disappointing tourney defeats by blitzing Arkansas City, 11-0, in a run-rule game Saturday, then maintained the momentum by running roughshod over Dodge City.
"I think we're on a roll now," said third baseman Clint Pinnick, who drove in two runs and scored twice. "I think we've got our second season, as we call it, going again."
For certain, the Raiders were going, going, going in the first inning.
Abel led off with a single, then stole second and third, scoring minutes later on one of three Dodge errors in the frame. Then Joe Kornbrust pilfered second and later scored.
Next on the wheels parade were Tyler Hatesohl and Bill Gadberry, who were on third and first bases, respectively, and worked a double steal, with Hatesohl scoring.
Gadberry moved to third when Abel, batting for the second time, was safe on an error, then those two worked another double steal, with Gadberry scoring. Finally, Abel stole third before Travis Sanders fanned to end the outburst.
"That seven-run first kind of set the tone," Edmondson said. "Our mission was to win the tournament, but we didn't pout about it."
Kornbrust collected the Raiders' ninth stolen base in the second inning, but after Alex Hardman - who had singled Kornbrust in - was thrown out trying to steal third later in the inning, Edmondson shut the running game down with the 8-0 lead.
Meanwhile, right-hander Drew Hulse went the distance on the mound. Hulse fanned five in the first three innings and allowed just two hits through four frames. However, Dodge touched him for four hits and a run in the fifth.
"I probably just got tired," said Hulse, who is still recovering from a knee injury that prevented him from playing for Washburn University in the spring. "I was really just trying to throw fastballs, get on top and take control."
Hulse and the rest of the Raiders had hoped, of course, to be playing in the championship game Sunday at Hoglund Ballpark. Instead, they found themselves in the consolation round across town.
"It's disappointing," Hulse said. "But, as always, we have to show up and do our thing. No matter what game it is, you have to throw strikes and get outs."
The Raiders (11-6) are scheduled to meet the Topeka Capitals in a 6 p.m. twinbill Tuesday at Ice Field.
Copyright 2018 The Lawrence Journal-World. All rights reserved. This material may not be published, broadcast, rewritten or redistributed. We strive to uphold our values for every story published.