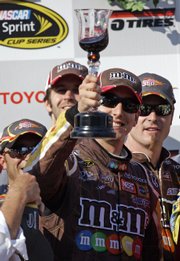 Sonoma, Calif. — The swagger had vanished, and the cocky confidence went with it. A two-week slump sent Kyle Busch spiraling into crankiness despite his hold atop the points standings.
With a victory Sunday at Infineon Raceway, his mood instantly lifted.
Busch snapped his mini-slump by racing to his first Sprint Cup Series victory on a road course with a Toyota that was so bad during practice he was certain he'd wreck. Instead, he made his series-high fifth visit to Victory Lane this season.
"I'm not happy unless I am winning, to be honest. I am a miserable person," he said. "But it means a lot to be able to run well and win. I'm a moody person, I guess. All of us drivers are when we're not having a good day. But when you have a good day and win races, it's kind of, 'Sun's up.'"
Busch, who had a poor qualifying run and started 30th, steadily moved through the field and grabbed the lead away from defending race winner Juan Pablo Montoya on an early restart. Nobody came close to taking the lead from him the rest of the way.
It was Busch's 11th overall victory this season spanning all three of NASCAR's top series. It also was his second road-course victory of the year, following a Nationwide Series victory in Mexico City in April.
Busch celebrated with his traditional smoky burnout, then climbed from his car for his customary bow to the crowd. For once, the fans were cheering the driver they so famously love to hate.
"I am really impressed with Kyle," said third-place finisher Jeff Gordon, his former teammate. "I've been around him, and I didn't think he's a really good road racer. So I think you've got to give that guy a lot of credit for his talent. To be able to get their car up front and maintain the position ... I would not have bet on that."
Copyright 2018 The Lawrence Journal-World. All rights reserved. This material may not be published, broadcast, rewritten or redistributed. We strive to uphold our values for every story published.