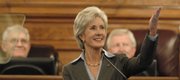 Kathleen Sebelius is the nominee for Secretary of Health and Human Services in Obama's Cabinet. She has served as Kansas' governor since 2002 and before that was insurance commissioner and a state representative.
Columbus, Ohio — Seeking to unite Ohio Democrats after a divisive presidential primary, the Ohio and Kansas governors urged the party faithful to work hard to win the swing state for Sen. Barack Obama.
Ohio Gov. Ted Strickland received a standing ovation Saturday night when he predicted the state will again tip the race for the White House - this time, delivering it to Obama, the Democratic presidential nominee-in-waiting.
Strickland, noting that he backed Sen. Hillary Rodham Clinton for the president, said she would want him to deliver a message.
"Barack Obama is the nominee of our party, he is a bright, committed, energizing young leader," Strickland said at the Ohio Democratic Party's annual dinner. "I met with him yesterday in Chicago and I pledged to him then, as I had previously, that I will work my heart out for him and that Ohio will work her heart out for him."
"Aren't you glad to be a Democrat?" Strickland shouted to the crowd of about 2,500 on the Ohio State Fairgrounds. "Aren't you really, really, really angry with George W. Bush and Dick Cheney?"
Kansas Gov. Kathleen Sebelius, the event's keynote speaker, touted Obama's credentials and "Kansas values," suggesting he is more on par with Midwestern voters than Republican nominee-in-waiting Sen. John McCain.
"There can't be sharper contrast in 2008 between the past and the future, between John McCain and the vision of Barack Obama," said Sebelius, daughter of former Ohio Gov. John Gilligan and a contender to be Obama's vice president.
Sebelius highlighted Obama's upbringing as the progeny of a Kansas single mother and of World War II-era working class grandparents.
"What's important in Ohio is important in America," she said, "because Ohio's families are America's families."
Sebelius, a Democratic governor in a Republican-dominated state, painted McCain as out-of-touch on health care and the foreclosure crisis, pointing to his receipt of government health insurance and his wife's considerable wealth.
But Sebelius acknowledged that divisions remain in the party following Clinton's exit from the race.
"There are still constituencies who are going to need a little time to embrace Sen. Obama's candidacy," she told reporters after the event, noting women in particular as part of that group.
The Republican National Committee said voters will reject Obama, no matter who speaks on his behalf.
"Democratic governors, much like the voters from the states they represent, recognize that Barack Obama's big-government agenda and old-style politics are not a good match for their states' interests," said Blair Latoff, an RNC spokeswoman.
Sen. Sherrod Brown told the crowd that a McCain presidency would be a "third term for George Bush."
He criticized the Republican presidential nominee for visiting Ottawa, Canada, on Saturday rather than Ottawa, Ohio - where the state has seen economic hardship and lost jobs. Brown said McCain is out of touch with Ohio voters.
"There is no way, no how that John McCain's going to carry Ohio in 2008," Brown said.
Clinton, who headlined the same dinner last year, scored a convincing primary win in Ohio in March and was endorsed Strickland. She has since dropped out, but many Democrats worry the party remains divided.
U.S. Rep. Stephanie Tubbs Jones, a Cleveland Democrat who backed Clinton's campaign, did her part Saturday by delivering a video presentation complimenting Clinton but urging the state's Democrats to get behind Obama.
Ohio Democrats dubbed the evening a "Family Reunion" - as much about Sebelius' personal history with the state as about folding party leaders with Obama.
Sebelius and 19 other Democratic governors met with Obama in Chicago on Friday to share state policy concerns and offer political help to the party's presumptive presidential pick. The governors have built-in networks of experienced political aides, something Obama will have to tap as he prepares for the November election.
Sebelius said the focus of Friday's meeting, which Strickland also attended, was on dovetailing the economic agendas of the Democratic governors - who lead 28 of 50 states - with Obama's general election campaign.
Copyright 2018 The Associated Press. All rights reserved. This material may not be published, broadcast, rewritten or redistributed. We strive to uphold our values for every story published.