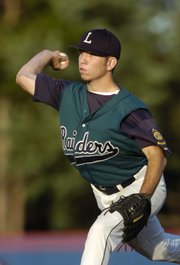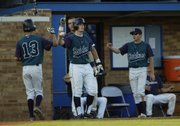 Everything that went wrong during the last two days for the Lawrence Raiders disappeared Saturday.
The runners they were leaving on base scored. The defensive mishaps turned into defensive gems, and the clutch hits that couldn't be found during the last two games came in bunches as the Raiders stomped the Arkansas City Black Diamonds, 11-0, at Hoglund Ballpark. The game was over in five innings due to the mercy rule.
"There wasn't much difference as far as effort," Raiders coach Shaun Edmondson said. "We were playing the game the right way. Just today, we had a lot more breaks, I guess. The few games we lost we were still hitting balls hard. We were still doing things the right way. Just everything came together tonight."
During the last two days, Edmondson watched his team struggle to push baserunners across home plate. Against the Ozark (Mo.) Merchants and Liberty (Mo.) Select, the Raiders stranded 22 runners. Saturday, they stranded five.
Hunter Scheib set the tone with an RBI triple in the first and later scored on a sacrifice fly from Ben Wilson. Lawrence plated five runs in the first.
"We had a good approach the first inning," first baseman Tyler Hatesohl said. "We just jumped on them early and that kind of set the tone for the rest of the game. It just worked better today."
Part of the Raiders' early success could be attributed to their aggressive baserunning. Drew Hulse and Lance Lamborn executed a double steal in the first that scored Hulse and moved Lamborn to second. Lamborn then scored on a single by Hatesohl.
Hatesohl ended the game going 3-for-3 with a triple and two runs scored. Scheib added two walks and a stolen base to his triple, while Alex Hardman went 2-for-3 with two singles.
On the mound, Travis Spurling held the Black Diamonds to two hits, both singles. He walked one batter and struck out seven.
"I was just throwing it up and letting my defense work behind me," Spurling said. "We have a solid defense, and we were playing really well today. We just came off a couple of losses so we were ready to go."
While Spurling pounded the strike zone, Raiders' hitters stayed patient against Arkansas City pitchers and recorded seven walks.
"Guys were really trying to get home runners in situations, move runners in situations," Edmondson said. "It was pretty evident ... that was the difference, more of a team approach, and we ran the bases better."
While the Raiders don't have a chance to play for the tournament championship, they face off against the Dodge City Rangers at noon today at Ice Field.
Copyright 2018 The Lawrence Journal-World. All rights reserved. This material may not be published, broadcast, rewritten or redistributed. We strive to uphold our values for every story published.