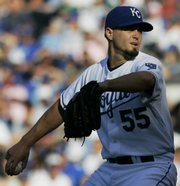 Kansas City, Mo. — Gil Meche won consecutive starts for the first time this season, Jose Guillen hit a two-run homer and the Kansas City Royals defeated the San Francisco Giants, 5-3, on Saturday night.
Meche lost his shutout in the sixth when Fred Lewis and Ray Durham led off with singles. Randy Winn hit a comebacker, but Meche's throwing error to second allowed Lewis to score and Durham to take third, and Bengie Molina followed with a sacrifice fly that made it 3-2.
"That was a freak play," Meche said. "I turned to go to second. Unfortunately, my foot accidentally hit the rubber and kind of knocked me off a little bit. Fortunately, it didn't cost us."
Guillen, fourth in the American League with 57 RBIs, connected in the seventh with his 12th homer of the year and 39th extra-base hit.
Molina added a sac fly in the eighth to make it 5-3, but Royals closer Joakim Soria worked a perfect ninth, striking out two, for his 19th save in 20 chances.
Meche (5-8), who struck out the first five Giants, was pulled after 101 pitches in 52â3 innings. He allowed two runs, one earned, on three hits and two walks while striking out seven. In his past two starts, Meche has given up four earned runs and seven hits while striking out 17 in 13 innings.
Rookie shortstop Mike Aviles, who had three of the Royals' seven hits to raise his average to .339, hit a two-run single with two outs and the bases loaded in the fourth, scoring Ross Gload and Joey Gathright to make it 3-0.
Meche did not allow a hit until Rich Aurilia's single to center with one out in the fifth. He retired the first 10 batters he faced before walking Durham and Molina in the fourth, but struck out Aaron Rowand to end the inning.
"Gil's got good stuff and it's tough to see," Rowand said, referring to shadows across the field. "That combination is never good as a hitter. He's a good pitcher. There's no doubt about that. He threw the ball good and we didn't get enough hits."
Copyright 2018 The Associated Press. All rights reserved. This material may not be published, broadcast, rewritten or redistributed. We strive to uphold our values for every story published.