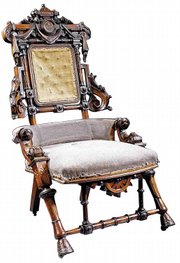 Submit an item
Current prices are recorded from antiques shows, flea markets, sales and auctions throughout the United States. Prices vary in different locations because of local economic conditions.
¢ Coney Island pocket mirror, photo of bathing beauty with amusement park in background, celluloid, 1950s, 2 3/4 inches, $125.
¢ Jetson Express windup train, tin lithograph, with George, Jane, Rosie, Elroy, Astro and Judy, Marx, 1960s, 12 1/2 inches, $200.
¢ Marlene Dietrich doll, black tuxedo & top hat, based on the movie "Morocco," composition, lifelike blond hair, 1930s, 27 inches, $315.
¢ Sterling silver salad serving set, Cactus pattern, 2-piece, Georg Jensen, 1930, 8 1/4 inches, $330.
¢ Wedgwood Jasperware jug, embossed hunt scene, dark blue dip handle, impressed mark, 1850s, 5 3/4 inches, $385.
¢ Buck Rogers liquid helium water pistol, lithographed steel, yellow with red flames, XZ-44, Daisy Mfg. Co., 1936, 7 1/2 inches, $480.
¢ Prince Matchabelli perfume bottle, Duchess of York, amber, 5 sides, contents, 1925, 3 inches, $810.
¢ 1904 Marlin Firearms calendar, "Repeating Rifles and Shotguns," man in woods hunting, cardboard, 6 x 3 inches, $1,225.
¢ Royal Copenhagen sauceboat, Flora Danica pattern, oval stand, backstamp & numbers, 5 3/4 x 10 inches, $1,920.
¢ George III bookcase, 2-piece, fruitwood and pine, 4 doors, glass panes, turned feet, c.1800, 81 x 58 x 15 inches, $6,320.
Antiques are often part of an eclectic decorating scheme nowadays. Gardeners know that an unusual blooming magnolia or dogwood tree must be placed in an isolated spot to be admired as a "specimen" tree. Decorators and collectors soon learn that some furniture can successfully dominate a room filled with pieces from many eras as a "specimen," a very special to-be-admired addition. Victorian furniture by George Hunzinger, Arts and Crafts pieces by Charles Rohlfs, early 1900s pieces by Carlo Buggati, colorful modern units by Ettore Sottsass for the 1981 Italian group called Memphis, or the creations by the 15-year-old Dutch firm Droog seem destined to be accent pieces. These designers created innovative furniture that was shocking in its day. It was so unusual in shape and material that it was appreciated by only the most daring. Today all are featured in museums, but some pieces are still too avant-garde to sell easily to collectors. Hunzinger was a Victorian designer who made chairs that looked as if they were constructed from wooden plumbing pipes. He "upholstered" some with wire seats and backs. He also made a square table with matching chairs that fit underneath. The odd chairs seem most decorative alone in a hallway. Prices today range from about $1,500 to more than $10,000.
Q: I have a color print, 18 by 24 inches, of a Winchester Repeating Arms poster from 1908. It pictures two hunters and their dog trying to deal with a skunk running out of a log. I bought the print because I loved it, but my husband would like to know if it's worth a lot of money.
A: That all depends. Your poster, along with many other old Winchester ads, has been reproduced - in different sizes, too. An old original of your poster, framed, sells for about $700. An expert can tell if yours is original or a copy.
Q: I have a game from my childhood called "Across the Continent." It's a little worn, but it has all of its pieces. It was made by Parker Brothers. The game board, which is printed with a map of the United States, folds into three parts. The box is red and has a yellow U.S. map on the cover. Could you tell me the game's value?
A: "Across the Continent" was first sold by Parker Brothers in 1890. Each player gets a list of U.S. cities to visit in order, starting and ending at a designated city. Players roll the dice and move to their target cities. Along the way, they draw cards with questions. Players are rewarded for correct answers and penalized for wrong ones. The first player to return home after reaching all the cities on the list is the winner. "Across the Continent" was re-released a number of times until 1952. The design on your box cover was used from 1936 to 1952. With all of its pieces, your game is worth about $45.
Q: I have an old 10-ounce Mountain Dew bottle that must date from when the soft drink was first made. The enamel label on the bottle is red and white. The picture shows a hillbilly shooting at a man running out of an outhouse. Right under the words "Mountain Dew" there's a name: "Hubert." Why? And what's the bottle worth?
A: Your bottle is not as old as the soft drink. Mountain Dew was trademarked in 1940 by two Knoxville, Tenn., brothers, Barney and Ally Hartman. The original concoction was a lemon-lime mixer, but the flavor was changed to mostly lemon in the late 1950s. The cartoon drawing of "Willy the Hillbilly" on your label was trademarked in 1948. It was used on Mountain Dew labels until the early 1970s. During the 1950s and '60s, the bottles also included the first name of individual bottlers or sellers - so it looked as though a moonshiner had personally brewed the contents. Someone named Hubert was honored on your bottle. Your bottle, with a two-color label, dates from between 1954 and 1964 unless the name Pepsi can be found anywhere on it. Pepsi bought Mountain Dew in 1964. If Pepsi is printed on your bottle, it dates from between 1964 and about 1973. In either case, your bottle would sell today for about $10 to $15.
Q: I have a small silver-colored rectangle with a decorated border and an engraved inscription of a name and date. A friend said it is a "casket plate." How was it used? Is it valuable?
A: A casket plate was literally a small sign attached to a casket that identified the corpse. Some were engraved with a name; others were generic and had "Our Daughter" or "Baby" or a similar title molded on the plate with an engraved date. In the late 19th and early 20th centuries in some parts of the United States, a duplicate casket plate was given to members of the family as a memento. Sometimes the plate was removed from the casket before the burial and given away. A few are dislodged from caskets unearthed during a flood or earthquake and eventually find their way to an antiques shop. They're interesting, but they're not popular with collectors and sell for low prices.
Tip: A signature adds 25 percent to the value of cut glass.
¢The Kovels answer as many questions as possible through the column. By sending a letter with a question, you give full permission for use in the column or any other Kovel forum. Names and addresses will not be published. We cannot guarantee the return of any photograph, but if a stamped envelope is included, we will try. The volume of mail makes personal answers or appraisals impossible. Write to Kovels, (Lawrence Journal-World), King Features Syndicate, 300 W. 57th St., New York, NY 10019.
Copyright 2018 The Lawrence Journal-World. All rights reserved. This material may not be published, broadcast, rewritten or redistributed. We strive to uphold our values for every story published.