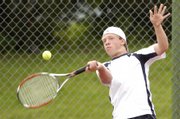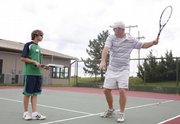 For some youths, summer means three months of popsicles and lawn chairs, three months of laziness and relaxation. But for the area's top tennis players, summer means hard work - lots of it.
Against the background of the splashing water and joyful screams of Alvamar pool, dedicated local tennis players come out four days a week for up to three hours a day to hone their skills.
They are members of the First Serve Tennis Center tennis academy, an intensive clinic that local pros at First Serve began three years ago.
The academy, which meets on the Bishop Seabury tennis courts, is coached by Scott Elwell, Adam Richie and John Richey, all pros at First Serve. The pros provide mental and physical training for players aged 8-18. Instruction focuses on fundamentals, technique, strategy and tournament play.
"We usually pick two to three different things to focus on each day," Elwell, head pro at First Serve, said. "At the level most of these kids are at, matches are won or lost because of errors. We really try to limit those errors as best we can."
The goals of each player varied. Some strived to build a national ranking. Others sought to become more competitive on their high school or junior high ladders. Some looked ahead to college.
"I just want to be the best I can be," said Ryan Abbott, a Lawrence High senior-to-be.
At the academy, getting better means playing as much and as often as possible.
Chris Helt, an incoming sophomore at Free State, said there were consequences for not playing year-round tennis.
"If you don't play in the offseason, you're going to get really rusty," he said. "It will take a long time for you to get back in your game."
Some players have seen significant improvement in their games in less than a month under academy training.
"It's helped my technique a lot," Helt said. "I've learned more ways to perfect it. My forehand's gotten a lot better and my backhand is not as ugly as it used to be."
Abbott said the constant play has built his confidence.
"I attack the ball a lot more," he said. "I'm not so timid with my shots."
The young program has begun to achieve success on the competitive level. Of the 25-30 players in the academy, at least 15 were playing in tournaments, Elwell said.
This sort of summer dedication requires sacrifice. Abbott said he felt like he's missed out on some of the typical high school fun of summer. He expected it, though.
"I miss just hanging out with my friends during the day," he said. "It's hard to see all those people in the pool right next to you having such a great time while we're over here working hard, but in the end it will pay off. You've got to put in the work to be rewarded in the season."
The nearby pool also highlights another challenge of the academy - the heat. West Junior High ninth-grader Andrew Craig said lots of water, sunscreen and a hat were important.
Coaches recognized the challenges of the academy and the activities - or inactivity - their students could be pursuing instead.
Abbott recalled a time when he hit three tennis balls in a row over the fence and into the pool.
"Everyone was just laughing at me," Abbott said. "It just makes it more fun when you can joke around like that. We work really hard, but there's never a dull moment.
"I've done other academies before and this one is just better - better players, better coaches, just better all around."
Copyright 2018 The Lawrence Journal-World. All rights reserved. This material may not be published, broadcast, rewritten or redistributed. We strive to uphold our values for every story published.