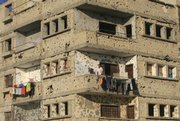 Sderot, Israel — Raz Elraz, for the first time, will be able to take his 14-month-old son to a playground in this rocket-scarred Israeli town. A few miles away in Gaza, Palestinian teenagers ride their bicycles, and Hamas guards play pingpong.
The six-month truce that took effect Thursday was welcomed by both sides, although the Palestinian economy is still being held in check by a closed border.
The cease-fire is meant to end Palestinian rocket barrages and Israeli reprisals in Gaza that have killed more than 400 Palestinians - many of them civilians - and seven Israelis in fighting since the Islamic Hamas seized control of the Gaza Strip a year ago.
Halting all violence is the first step of the deal. If it holds, succeeding stages will see Israel easing its blockade on Gaza and negotiations will resume on the release of an Israeli soldier held for two years by Hamas-linked forces and on opening the Rafah crossing between Gaza and Egypt.
Israeli Prime Minister Ehud Olmert will fly to Egypt next week for talks with Egyptian President Hosni Mubarak, Olmert's office said. The statement indicated the talks were not linked with a prisoner exchange, but Israel's chief negotiator on the prisoner issue is also due in Egypt on Tuesday.
Much is at stake. If the truce fails, Israel has warned it will launch a large- scale invasion of Gaza, despite warnings of high casualties on both sides. That could prompt the moderate West Bank government of Palestinian President Mahmoud Abbas to call off U.S.-backed peace talks with Israel.
While Abbas has little control over the daily life of the 1.4 million Palestinians in Gaza since Hamas overran the territory and ousted his security forces, he wants to strengthen his image in both territories as he tries to negotiate with Israel.
As the sun set on the first day of the truce, there were no reports of fighting. The last truce, in November 2006, lasted only weeks.
Copyright 2018 The Associated Press. All rights reserved. This material may not be published, broadcast, rewritten or redistributed. We strive to uphold our values for every story published.